Le Van Sinh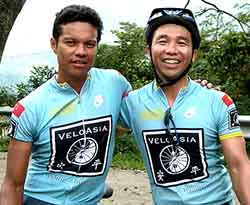 A former engineer, in 1991 Saigon-native Sinh virtually founded the modern-era tourist industry in Vietnam, opening the seminal and now famously-duplicated Sinh Cafe. An avid cyclist, Sinh has criss-crossed and explored the roads and remote corners of Vietnam for over 30 years even hosting pros incuding US champion Tony Cruz ( right). Sinh's knowledge of the highways and byways of Vietnam is unequaled and he has served as cartographer for Lonely Planet and several other guidebooks for decades.
Patrick Morris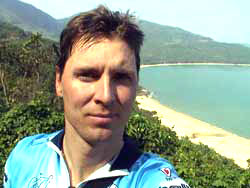 In 1993, Patrick moved to Saigon, organized and lead the first cycling tours of a newly-opened Vietnam. Over two decades later and of thousands of miles of exploring and leading trips in the country and throughout the world, it remains his favorite place. Call him in our San Francisco office at (415) 680-3788 to learn about his knowledge of and love of Vietnam. Patrick's insider tip: Toss the guidebook — the cuisine is as fabulous as Bourdain and others have claimed, but it is the limitless optimism, warmness, and humor of the Vietnamese people are addictive and the real highlight of the country.
Chit Philavanh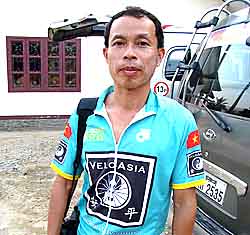 A native of bucolic Luang Prabang, Chit has lead overland cycling trips for over two decades, including our popular cross border Hanoi to Luang Prabang trips. Nobody has more experience managing trips on the road, a more engaging personality, nor a more fascinating life from dry rice farming as a child to hosting guests from around the world. Chit will invite you to meet his family during your time in his home town, during a traditional baci welcoming ceremony. Chit also has a keen knowledge of lao cuisine, and your time in Laos will be spent enjoying this lesser-know facet of the country.