If you've come this far, you will not want to miss The Prize of Southeast Asia: The Grand Temples of Angkor, which lie a mere one hour's flight from Saigon in neighboring Cambodia.

Angkor what? Many people have heard of the main temple Angkor Wat, but what they don't realize that Angkor consists of over 70 discovered ruins spread over 200 square kilometers. Angkor Wat itself is a half mile-wide — the greatest Buddhist monument ever constructed, but there are many astounding structures of equal impact in the surrounding area. This density of ruins is unparalleled anywhere else in the world, with the exception of the Nile Valley.
Siem Reap, our launching off point is only a short flight from Saigon and a couple of miles from Angkor itself. Lodging options include the magnificent 5-star Grand Hotel d'Angkor, a beautifully restored French Colonial gem, or the tasteful favorite, Angkor Village.
Cycling Angkor
Angkor on two wheels. We offer a range of original rides to some of the most spectacular temples and sights in the area.
We can organize a variety of three half-day rides and seven full-day rides, which include historic temples, beautiful countryside and floating villages, all on back trails and paths away from the crowds.
As well as new innovative rides, we also offer the classic rides of old, including the Grand Circuit of Preah Khan, Neak Poan, Ta Som, Eastern Mebon and Pre Rup over the course of a leisurely day, or the Small Circuit of Ta Keo, Ta Nei, Ta Prohm, Banteay Kdei and Sra Srang.
Finally there is the option of exploring Angkor Thom on bicycle for those who want a short ride among the temples. Our shorter trips can be organized for children of all ages (most rides are flat on packed dirt roads with support). Longer, full-day rides will keep even the fittest rider pleased.
Example Itinerary :: Cycling Angkor
Rise before sunup and travel to Ta Prohm in the dawn light. Ta Prohm has been abandoned to the elements, a reminder that while empires rise and fall, the riotous power of nature marches on, oblivious to the dramas of human history. Left as it was discovered' by French explorer Henri Mouhout in 1860, the tentacle-like tree roots here are slowly strangling the surviving stones, man first conquering nature to create, nature later conquering man to destroy and in the meanwhile, creating a surreal mix of both and tranquility of dawn is the best time to marvel at this wonderful temple, watching the rising sunlight cast its rays onto the ancient stones while chattering parrots dart from tree to tree.
After soaking up the unique atmosphere of Ta Prohm, we'll enjoy a picnic breakfast before we jump on our bikes riding on quiet single track paths wherever possible, bicycling through the stunning landscape of towering palms and magnificent ruins to the walled-city of Angkor Thom. En route, cycling past Takeo, an incomplete pyramid temple that was abandoned after being struck by lightening. After a dramatic entrance to the city through the Victory Gate, we leave the ground trail and cycle our bikes across the top of the fortified walls to the Gate of the dead (East Gate).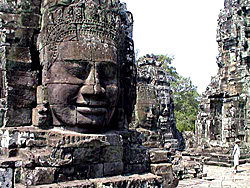 Biking in this magical place will take us on forest trails to seldom-visited temples, passing, Preah Palilay, the Royal Palace, Phimean Akas complex and Baphuon. We will then emerge on the central square of Angkor Thom, winding our way along the Terrace of the Leper King and Terrace of Elephants. Our last stop in the ancient city is the enigmatic and awe-inspiring temple of the Bayon.
At the exact center of Angkor Thom, there is an astounding eccentric expression of the creative genius and inflated ego of Cambodia's most celebrated king: each of its 54 towers are topped off with the all-seeing four faces of the Buddha of Compassion, but bear a strong resemblance to the king himself. These colossal heads stare down from every side, exuding power and control with a hint of compassion (just the right mix required to keep a hold on such a vast empire?).
We then make our way out of the ancient city, cycling past troops of monkeys, through the towering South Gate. Here we have the option of leaving our bikes behind and returning to town by van or continue riding past Angkor Wat and then back to our hotel.
Route notes: We will ride flat roads and trails with little traffic, there is plenty of shade and temples are positioned close to one another. This is the ideal way to experience Angkor Thom and will provide a memory that will not be forgotten. Cycling distance is around 7-8 miles (12 kms) with options for longer or shorter rides of any distance and time.
Note: Cycling is organized during the dry season only (from October until May).
This tour may be customized by length and accommodation, including a side trip to Phnom Penh. Consider combining a three-day trip to Angkor with our Mekong Delta cycling trip and our Halong Bay kayak trip — three highlights of the region.