Road Bicycling with Full Support
14 Days/Nights
All Cycling Abilities
100% Paved Roads
Landcost: $580/day per person
Bikes: Trek Hybrids
Japan Airlines
ITINERARY BRIEF
0 Arrive Osaka
1 Osaka to Nara
2 Nara
3 Nara to Kyoto
5 & 6 Kyoto
7 Nagoya
8 & 9 Takayama
10 & 11 Nagano
12 Tokyo
apanese life is as distinct as it is refined: the art, food, and architecture stand out uniquely from the rest of the world. Sushi, geisha, Zen Buddhism…all distinctly Japanese and familiar, yet shrouded in mystery. What better way to unlock these secrets than by the exceptional access a bicycle provides?
Join VeloAsia for the Path of a Thousand Temples, an unforgettable exploration of the harmonious Japanese landscape and vigorous culture. Today, Japan is at a crossroads of old and new, and our bicycle tour will explore the vivid and contrasting wonders of modern Japan with it's rich medieval legacy under a backdrop of incredible natural beauty. On Path of a Thousand Temples we will explore Japan's ancient temples, shrines and castles and cycle through it's natural treasures, including the lush mountain valleys of Shikoku, Japan's most scenic island featuring spectacular back country riding.
In Nara and Kyoto, there is time to wander the cultural backbone of ancient Japan, home to the highest density of World Heritage Sites in the world. But there's more beyond the well-known historic sites and we'll venture into the "Japanese Alps." Here you may relax tired legs in natural hot springs, stopover in the Japanese "alpine" village of Takayama, home to traditional artisans, visit the famous snow monkeys in their steamy Nagano mountain habitat, and finally, at tour's end, delve into the cultural and neon wonders of modern Japan in Tokyo.
In the end, any understanding gained will be lost in a multitude of new mysteries to be pondered, but the memories of this trip will be vivid for a lifetime.

D E T A I L E D I T I N E R A R Y
Day 1: OSAKA
Arrive in Osaka, a modern city that really comes to life at night. We start the evening with a fine meal and orientation at a renowned tempura restaurant, followed by a walking tour of Dotombori, the inspiration for the futuristic sets of the movie Blade Runner. Afterwards, turn in early after the long flight.
Transfer: Airport to hotel
Hotel: Ryokan
Dinner: Tempura Maki
Evening: Dotomburi nightlife
Day 2: OSAKA TO NARA
After breakfast, a short class in basic Japanese language, etiquette and customs. After a short transfer to quieter roads, mount bicycles to looping around Nara on country roads that take us past beautiful rural buildings and farmland. After a lunch, tour the Nara National Museum and its noted collection of Buddhist art. Retire at night to the comfort of a traditional Japanese inn (ryokan).
Breakfast: Nankai South Tower Hotel
Activity: Japanese language and customs class
Bike: Osaka to Nara (40 miles)
Lunch: Bento (box) lunch
Hotel: Ryokan Seikan-so
Museum: Nara National Museum
Dinner: Hiraso
Day 3: NARA
With eight World Heritage Sights, Nara is a second only to Kyoto in terms of cultural import. A day tour takes in many of these sites, including various temples, palaces, shrines and ruins. Sites include Todaiji Temple, home to a huge bronze Buddha that is Nara's most famous tourist attraction, and Kasuga Taisha Shrine, considered to be one of Japan's most important Shinto shrines. After a "fast food" lunch of sushi, the group will spend the afternoon touring Nara Koen, a city park with thousands of semi-tame deer. We finish the day with a traditional meal overlooking a perfect Japanese garden.
Hotel: Ryokan Seikan-so
Breakfast: Ryokan Seikan-so
Bike: World Heritage Site tour
Lunch: Maguro-tei
Walk: Nara Koen
Dinner: Sanshu
Day 4: NARA TO KYOTO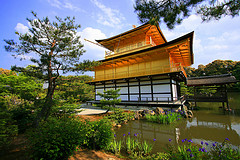 The Golden Pavilion Temple, Kyoto
Start the day with a relaxing bicycle ride from Nara to Kyoto, the undisputed cultural center of Japan. Kyoto embodies traditional Japan with 17 World Heritage Sites and more museums, art galleries, palaces and gardens than you could explore in two lifetimes! After a quick post-ride lunch, relax and enjoy a traditional Japanese public bath near your ryokan in central Kyoto. After dinner, take a few hours to explore Kyoto's nightlife.
Breakfast: Ryokan Seikan-so
Bike: Nara to Kyoto (40 miles)
Hotel: Ryokan Hinomoto
Lunch: Bento (box) lunch
Activity: Japanese bath
Dinner: Oiwa
Day 5: KYOTO
Kyoto…one of the most incredible cities in the world. Your first full day in Kyoto will be spent uncovering the traditional beauty of this enchanting city. We start the day with a walking tour of Central Kyoto, including an optional, early morning excursion to Nishiki-koji Market. After a quick breakfast, we will head for Nijo-jo and Nijo Jinya, two excellent examples of feudal architecture from the Shogun period. We finish the walking tour in Kyoto-gyoen, an urban park where we will have a relaxing picnic among the trees, carp fish, and other local flora and fauna. After a quick rest and traditional bath, we will head for Pontocho, an area that typifies old Japan with wooden buildings and hanging lanterns. We might even spot geisha on their way to work.
Hotel: Ryokan Hinomoto
Walk: Nishiki-koji Market
Breakfast: Ryokan Hinomoto
Walk: Nijo-jo and Nijo Jinya
Lunch: Picnic
Walk: Kyoto-gyoen park
Activity: Traditional bath
Walk: Pontocho
Dinner: Uzuki
Day 6: KYOTO
Today we move to the foothills to discover the hidden treasures of Eastern Kyoto. Travel by bike and on foot around the Higashiyama district as staff transfers your belongings to unique accommodations at a local shrine. Area sites include the Sanjusangen-do temple, the Kyoto National Museum, which has an excellent collection of Japanese artifacts, and the stunning hillside temple of Kiyomizu-dera. After a simple but satisfying lunch of noodles and area vegetables, we will visit the picturesque grounds of Ginkaku-ji temple and the Zen temple, Nanzen-ji. After so much sightseeing, it's time to relax. Enjoy a traditional tea ceremony or an optional, unguided two-hour hike up Daimonji-yama for a panoramic view of Kyoto. After a yakitori dinner, time to explore the traditional nightlife of Gion.
Breakfast: Ryokan Hinomoto
Walk/Bike: Tour temples and museums (10 miles) 
Lunch: Omen
Hotel: Mishima-jinja
Activity: Tea ceremony or optional hike on your own  
Dinner: Ichi-ban
Walk: Gion
Day 7: NAGOYA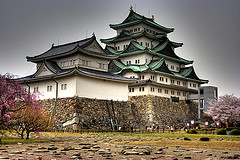 Nagoya Castle

We start the day with an early morning transfer over the Higashiyama Mountains to Otsu, a city on the coast of Japan's largest lake, Biwa-ko. From there we will cycle along the lakefront to Hikone-jo, a stunning medieval castle. After a short lunch in Hikone city, we continue by bus to Nagoya. Dinner is served at a wonderful robata restaurant (grilled food). After dinner, exploring the areas famous pachinko parlors (Japanese pinball), bars and nightlife. 
Breakfast: Mishima-jinja
Transfer: Kyoto to Otsu via bus
Bike: Otsu to Hikone (30 miles)
Tour: Hikone-jo and surrounding gardens 
Lunch: Cafe/Restaurant
Transfer: Hikone to Nagoya via bus
Hotel: Petit Ryokan Ichifuji
Dinner: Izakaya Bun
Day 8: TAKAYAMA
Sumo wrestling is as impressive as it is misunderstood. Today we will visit a sumo stable to see how the great men train and live. If there is a tournament, we will observe before traveling by shinkansen (bullet train) to the mountain city of Takayama, your first stop in the Japanese Alps. The city is a beautiful example of traditional Japanese life with old style streets, buildings, customs and activities. For a change of pace, we stay in a traditional minshuku (bed and breakfast).
Breakfast: Petit Ryokan Ichifuji
Activity: Sumo training stable or site seeing on your own
Lunch: Ebisu
Transfer: Nagoya to Takayama via bullet train
Hotel: Rickshaw Inn
Dinner: Cafe/Restaurant
Day 9: TAKAYAMA
The Japanese Alps
Today will include a leisurely bicycle tour of Takayama and the surrounding areas. The village is famous for traditional arts and crafts and has many important and interesting highlights, including Hida Minzoku-mura, a traditional folk village. After a quick lunch of local traditional specialties (soba noodles with mountain vegetables), we will then relax in the local hot springs. Those more adventurous can add a hike or more extensive biking in this beautiful section of the "Japanese Alps."
Hotel: Rickshaw Inn
Breakfast: Little Bear Cafe
Bike: Area tour, including Hida Minzoku-mura (15 miles)
Lunch: Bento
Activity: Hot springs
Dinner: Suzuya
Day 10: NAGANO
Today's ride is a challenging one through valleys and mountains to the mountain village of Hiyoshi. But don't worry, your tour is fully supported so you can retire to the comfort of the support van as soon at any time. After a quick lunch in town, we'll catch the train to Nagano, and retire to temple lodgings near Zenko-ji Temple.
Breakfast: Rickshaw Inn
Bike: Takayama to Hiyoshi (40 miles)
Lunch: Cafe/Restaurant
Transfer: Hiyoshi to Nagano via train
Hotel: Temple lodging
Dinner: Temple lodging
Day 11: NAGANO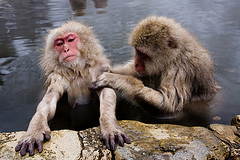 Snow Monkeys

For early risers, the first stop of the day is the Zenko-ji Temple for an early morning Zen service. After an extensive temple tour, we will enjoy a nice breakfast before riding to the mountain village of Yudanaka, home of world-famous hot springs and snow monkeys.
Activity: Zenko-ji Temple
Breakfast: Temple lodging
Bike: Nagano to Yudanaka
Lunch: Cafe/Restaurant
Hotel: Temple lodging
Dinner: Temple lodging
Day 12: TOKYO
Tokyo Skyline
After an early morning ride by shinkansen to Tokyo, we will tour many of the city's highlights, including the Imperial Palace and Tokyo Tower for a stunning birds-eye view of the world's most modern city. For dinner, we'll travel to the beach town of Hayama for a farewell dinner and beach party in your honor.
Breakfast: Temple lodging
Transfer: Nagano to Tokyo via bullet train
Hotel: Ryokan
Activity: City tour
Lunch: Cafe/Restaurant
Transfer: Tokyo to Hayama via bus
Dinner: Cafe/Restaurant
DEPART TOKYO
Today you leave Japan, so you might want to do some early morning shopping before you return home. The best places to shop include the Nakamise-dori shopping arcade in Ginza, or perhaps Shinjuku for the worlds best selection of electronics.
Transfer: Hotel to airport
DATES: Private tour only.
LANDCOST: $580 and up, per person, per day. Single supplement starting from $2,850.
AIRLINE: Japan Airlines, Northwest, United or All Nippon Airlines. Please call for specific pricing from your location.
NOTE: Japan reaches far beyond the historical and scenic sites we offer on this itinerary and we encourage you to explore on your own at anytime during the tour. Day trips with the group and riding days are always optional. Additionally, we modify the itinerary to keep every tour unique and spontaneous.
GUIDES: Mason Florence has lived in Japan for the last ten years and is author of Lonely Planet's Japan and Kyoto guidebooks. For the past 15 years Willard Ford has cycled and lead tours extensively throughout the world, including this Japan trip, Vietnam, Cambodia, China, Thailand, Germany, France, Holland, Belgium, Switzerland, Italy, Austria, England, Ireland, Mexico, Belize, and Canada. Hiroshi Nakano, our cultural guide in Kyoto, is a Humanities lecturer at Kyoto University and expert on the region. Patrick Morris established the first cycling tours in Vietnam, Laos, Cambodia as well as unique trips, including our Iron Chef: Vietnam tour.
Can we provide you with more information on our company or our tours?
Send email to VeloAsia, or call our office in San Francisco at .
VeloAsia Cycling Adventures: veloasia@gmail.com All Rights Reserved 1993-2018 VeloAsia