Although some would claim Burgundy and the Val de Loire are not nearly as adventurous as our other cycling tour destinations, they would be mistaken.
While your friends may scoff at such an apparently bourgeois voyage, those who know tremble at the very idea of cycling through the heart of where Grand Crus are hand-crafted, where Michelin-starred restaurants are as common as McDonalds, and of course, the idea of struggling with one's already limited French after indulging in both. Not for the faint of heart!
This trip will not provide only intimate exploration of one of France's most notable wine regions, but exposure to Val de Loire's deep beauty, culinary highlights, and above all... pleasure! Enjoy leisurely cycling along pastoral landscapes in settings of unique beauty and historical interest.
The Loire is also known for its delicious cuisine marked by fresh trout and salmon, countless varieties of goat cheese, and mushrooms from the Saumur caves (the world's largest mushroom producer) comprising meals that taste as fine as the châteaux look. Here too are wines that rival those from Burgundy, making them perfect for toasting to beauty and grandeur of Val de Loire.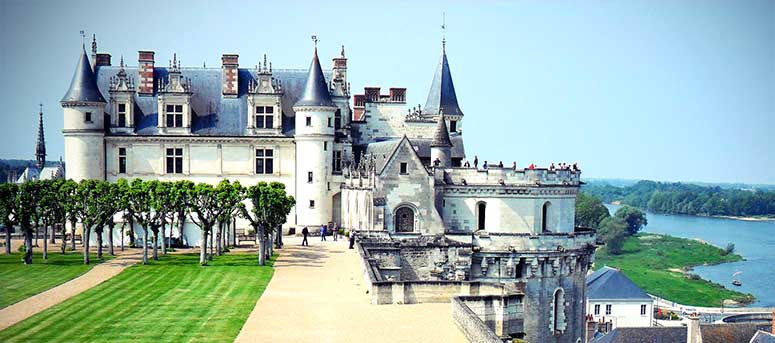 While the grand châteaux will be a highlight of the Val de Loire, our focus in Burgundy will be grand crus. Burgundy… idyllic land of medieval majesty, flavorful fare and the grandest grapes. Winemaking has been in the blood here since Imperial times, and the passage of history is measured not against the clock, but by Mother Nature's calendar. The soul is in the soil, which has served as battleground for conniving kings and dueling dukes, and weathered the boot prints of marauding armies of Huns, Spaniards and oenophiles alike.
Clearly, Burgundy is the spiritual homeland of French wine and villages, such as Chablis and Nuits-St-Georges, are known throughout the world. And while Burgundy may well be famous for its wine it has a great deal more to offer including Renaissance châteaux, medieval abbeys, and fortified villages which all stand testimony to the colorful history of this lesser-known region of France, also perfect for exploring on two wheels and with a fourchette...
In Burgandy, dine splendidly on Boeuf Bourguignon, the region's signature dish, and on one of France's most celebrated cheeses, Epoisses, which comes from a lovely little village of the same name. Of course, locals will insist you wash down their cheese with a glass of vielles vignes (old vine) Chablis.
Extend, or preface your trip, with time in Paris (view our trip notes), or continue on to our other favorite places in Europe which combine fabulous cuisine and picturesque landscapes, including the Basque country and Saint Sebastian, the French Alps, Italian Dolomites, and Austrian Tirol, or busier coastal destinations in the south.

QUESTIONS? Call us in San Francisco at or email us We are happy to answer questions or inquiries.