Fabulous! Fresh local seafood, fruits and vegetables (our chef will even teach you to carve them). Cool mornings will feature piping hot pho (soup), omelets, baguettes with jam and butter and Vietnamese "depth charge" drip coffee. Vegetarians can also be accommodated. Here is a sample three-day menu: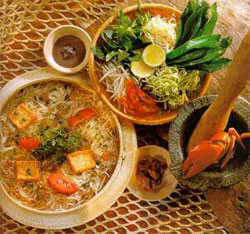 Day 1 Lunch: Fried sweet potato, steamed shrimp with beer, steamed crab with ginger, roasted pork with five spices, battered tuna in lemon sauce, stir-fried squid with pineapple and onion, stir-fried mixed vegetables with steamed rice and assorted fresh tropical fruits.
Day 1 Dinner: Squid balls in French-Vietnamese baguette with special sauce, cucumber salad with garlic, chili and lime juice, mixed seafood soup, shrimp in sweet and sour sauce, sweet and sour Halong crab with salt and scallions, steamed clams with Vietnamese mint and lemongrass, steamed snapper with fresh ginger and fresh local herbs, stir-fried seasonal vegetables with steamed rice and assorted fresh tropical fruits.
Day 1 & 2 Breakfast: Baguettes with fresh butter, cheese, and jam, bacon, sausages, omelets, with milk, tea, coffee and orange juice, and fresh local fruits.
Suggested extra dishes for vegetarian: Cabbage roll in tomato source with mushrooms and clear noodle Tofu with salty chili and lemongrass Vietnamese pate with "thousand year egg."
Day 2 Lunch: Seafood & vegetarian spring rolls, French fries (the best you've ever had), spring soup, fried Japanese shrimp, pork curry with stir-fried vegetables, steamed white rice and fresh fruits.
Day Dinner: Stewed chicken with lemongrass and perfume mushroom, mixed salad, shrimp soup, Beef in wild betel leaf with fish sauce and peppers, fried rice with mushroom and mixed vegetables, fresh baked catch-of-the-day, pork rib BBQ with cinnamon, stir-fried vegetables with steamed rice and fresh fruits.
Day 3 Lunch: BBQ squid with lemongrass and chili, fried shrimp, mixed salad, sweet corn soup, stewed fish with white wine, caramelized clay-pot pork, sauteed beef with green beans, baguettes with stir-fried vegetables, steamed rice and fresh fruit.
Imported wines, spirits, beers and canned sodas available at extra charge.