Vietnam's Bay of the Descending Dragon
ith 3,000 limestone and dolomite islets sprinkled over an area of 1,500 square km, Halong Bay offers a wonderland of karst topography. In recognition of this, in 1994, Halong was designated a UNESCO World Heritage Site. Legend has it that when the Vietnamese were under attack long ago, a dragon came to their aid, splitting mountains to impede the progress of the enemy. The limestone topography was created by the lash of the dragon's tail as it thundered down from the mountains to the sea; consequently, "Vinh Halong"—Halong Bay—means "Bay of the Descending Dragon." In geological terms, the mythical monster at work here is wind and water, weathering the porous limestone over a few million years. This process created the bizarre limestone cathedrals, colonized by stunted and twisted vegetation. The romantic setting of rugged island peaks and bays dotted with sailing junks has inspired a whole genre of Vietnamese painting.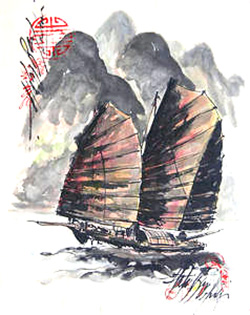 Depending on which kind of beer you drink, the islets resemble animals or other shapes. Some have been christened Head of Buffalo, Neck of Horse, Fighting Cock Rock, Elephant, Crocodile Rock, or Duck Island, while others are called Black Cloud Island, Teapot Island, or Riceball Peak. You can indulge in the fine sport of naming the features yourself, as the French did in their time. The fisherfolk of Halong navigate by these landmarks and can reel off every nook and cranny by name—Hon Ga Choi (Fighting Cock Rock), Hon Con Coc (Toad Island), Hon Rong (Dragon), Hon Rua (Tortoise), Hon Dua (Buddha Praying Island). To follow Vietnamese names, hon means karst peak or islet, dao means larger island, hang means grotto, and dong means karst cave.
Halong Bay allows you to see its geology from the inside—from grottoes with stalactites and stalagmites. This is a spelunker's paradise, with some very deep caves. Grottoes are prime places for shrines in Asia; Vietnamese and Asian visitors as well as locals pay their respects at Dau Go and Trinh Nu grottoes, among others. On a boat tour, you mainly view these karst grottoes. Otherwise, you relax on board, sunbaking, taking in the views, clipping off photos of the islands, eating seafood, or gazing at the sails of a junk heading off into the sunset. Sheltered sandy coves on the islands offer good swimming in summer. The beaches themselves are not the fine-sand variety, more often gravelled or pebbly, or with sharp shells. Halong Bay holds great potential for snorkeling, diving, and kayaking. Bring your own equipment; rental possibilities are scarce.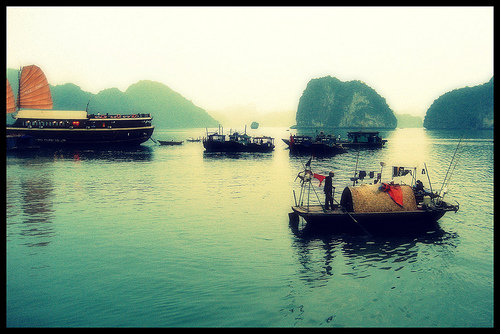 Dau Go Island
On the north side of this island, about 40 minutes out from Bai Chay, are two deep grottoes—Hang Dau Go and Hang Tuyet. Hang Tuyet (Snow Cave) is also known as Hang Thien Cung (Celestial Palace). As a fairly recent discovery, it has thus far escaped the plague of graffiti and garbage. The large cave has a steep entryway. Be careful in here; you'll need a strong flashlight. Sparkling stalactites hang throughout the cave, glittering like diamonds.

Nearby Hang Dau Go (Hiding the Timber Cave) is the largest grotto in the Halong area. The first French tourists who clambered ashore in the late 19th century christened it Grotte des Merveilles. Its three large chambers contain numerous stalactites and stalagmites in the shapes of birds and animals. One chamber holds a freshwater pool. The grotto especially appeals to Chinese tourists, who love to take photos here and engrave their names on the walls.

Halong Bay has been the setting for some famous naval battles. On three separate occasions in the maze of channels between Haiphong and Halong the Vietnamese prevented the Chinese from landing. In 1288 Tran Hung Dao stopped Mongol ships from sailing up the Bach Dang River by placing steel-tipped bamboo stakes at high tide. The ships ran against them at low tide and sank. General Tran Hung Dao supposedly hid the bamboo stakes in Hang Dau Go when preparing to fight the Mongols.
The Sails of Halong
Fishermen at Halong mount fan-shaped Chinese junk sails on their boats, the same sort of sails once deployed by pirates in these waters. Junks have been used for centuries by the Chinese, Japanese, and Javanese for fishing and transportation, and often as living quarters; a junk commonly includes a deck, high masts, and several cotton sails.
Halong is one of the last places where junk sails are still handmade by families of sailmakers. Coarse cotton panels are sewn together with silk thread—every seam sewn by hand. To discourage rot and mildew, the completed sail is dipped in a liquid that comes from a beetroot-like member of the yam family. The sail is dipped and dried three or four times, a process that gives it its dark red-tan color.
The sails are braced flat by bamboo strips or battens. The bamboo must be treated for a quite different problem—bamboo parasites can literally shred the wood while at sea. Bamboo may be treated with Japanese lilac leaves, pounded into a paste with lime and seawater. Lacquering can also render bamboo less susceptible to borers.


Bo Hon Island

Bo Hon lies about 1.5 hours from Bai Chay (one hour on a faster boat) and has seven of the best grottoes and caves in the Halong area within easy reach of each other. The French called the place Ile de la Surprise. Allow at least six hours to get out to the area, explore, and return to Bai Chay.

In a small islet off Bo Hon you'll find Hang Bo Nau, or Pelican Cave, apparently at one time frequented by these birds. This grotto has a deep-water entrance, so tour boats can dock up close. Hang Bo Nau consists of a short cave with no exit. From inside the grotto you can take a classic photo of the facing bay, framed by the mouth of the cave, with stalactites hanging down like giant teeth. Bo Nau is a prime touring destination, and fishing families ply the area in sampans, letting loose obnoxious children who beg for money and food in three languages, and try to sell shells and coral pieces. The families also sell fresh fish and shrimp at high prices to tourist boats.

Bo Hon Island faces Bo Nau, and a five-minute cruise will put you into a wide semicircular bay. The area holds a sea-level shrine, and two caves high up on cliffs. One cave is not accessible directly from the shore. A set of steps ascends 50 meters to the other, called Hang Sung Sot. Hang Sung Sot is very deep, with sparkling white stalactites. A one-hour hike will take you through it.

If you continue eastward by boat around Bo Hon Island for about 20 minutes, you'll reach Hang Luon, a perfectly circular pool accessible by a cave entrance by boat. If your boat is too tall, transfer to one of the smaller fishing vessels that wait at the entrance. You can dive off the boat here into the calm water.

Bizarre rock formations jut out of the sea to the north and east of Hang Luon. One resembles a tortoise, another a human head. Some guides call this a big-nosed Charles de Gaulle islet, but for American groups the name changes to George Washington. A nearby formation has limestone "bridges" suspended along its middle; east of the bridges lies a rock island that resembles a curved dragon's back rising out of the water.

Coming around the back of Bo Hon Island, a half-hour cruise will get you to a smaller island with a sea-level cave called Hang Trinh Nu (Virgin Grotto). You can scramble up to a back exit that opens onto two pretty coves at the back of the island. Watch out for sharp limestone when scrambling around here. Hang Trinh Nu is associated with a legend about a poor fishing family who rented a boat from a rich mandarin. When they could not pay what they owed him, the cruel mandarin demanded the hand of their exceptionally beautiful daughter. She refused to marry him, so he ordered his soldiers to seize her, but she escaped by boat and hid in Hang Trinh Nu. She ran out of food and died in the grotto—fishermen found her body and buried her here. One rock formation inside the grotto is said to resemble the woman; this has become a shrine, with offerings of incense, fruit, and money left for good luck.

Recent Cave Discoveries

Within range of Hang Trinh Nu are some pristine mid-1990s discoveries. Spurred by overcrowding at other caves, fishermen were offered rewards for blazing trails to new caves to ease the congestion. Locals have rights to charge entry if they set up walkways and illuminate the caves with generator lighting. Slightly west of Hang Trinh Nu is Dong Me Cung (Grotto of the Labyrinth), a deep cave with sparkling stalactites; the floor of the grotto is carpeted with sea-snail shells—apparently the detritus of picnic lunches left by fisherfolk who once inhabited this cave. Farther east of Hang Trinh Nu are some smaller cave complexes. Ho Dong Tien (Fairy Lake) takes its name from a completely enclosed shallow lake within, where fairies are supposed to swim. Off to the side are large limestone chambers—the bedrooms of the fairies, of course. Dao Lao Dai is a water-approached grotto with big tunnels and chambers—it's of mild interest. Even farther east lies Dong Tam Cung (Three Palaces), which qualifies as the most spectacular cave at Halong Bay. There are three magnificent chambers here, well illuminated, with a fantasy landscape of limestone forms—great stalactites bunched together like cathedral organ-pipes or arrayed in fat Grecian columns.

Cat Ba Area

The coves around Cat Ba are riddled with oddly shaped karst formations. A well-known beach here is Ba Quy Dao (Three Peach Beach), so named because of three rock outcrops resembling peaches. You can easily visit these areas on a chartered boat originating in Cat Ba Harbor (Cang Cat Ba)—on a day-trip, or connecting from Cat Ba to Bai Chay. Note that choppy waters in Lanha Bay can make the trip difficult for smaller vessels.

Dau Be Island
One hour south of Hang Trinh Nu, or three to four hours out of Bai Chay, lies Dau Be Island, which has a small fishing settlement. To the western side of the island is Ho Ba Ham (Three Tunnel Lake), a deep grotto with three inland "lakes." You can access it only at low tide in a small rowboat; locals will offer to take you through. The tunnels flood at high tide and become very dangerous, so pay attention to the time and the turning tide. Dau Be Island features sandy coves excellent for swimming, also good diving spots with lots of coral. Unfortunately, the island seems to have been leased to Japanese companies engaged in pearl culturing, so it may be difficult to visit this part of the bay.

Hong Gai Area
You can visit Hong Gai by boat, coming in close to the fishing trawlers that form their own kind of floating market in the morning. You can arrange to alight here to check out the onshore market in Hong Gai. Nearby, tucked away in an alley, is Long Tien Pagoda, named after the illustrious dragon; it's guarded by statues of mythical warriors in elaborate coats of armor. A short way out from Hong Gai is Hon Oan, the island portrayed in the film Indochine as L'ile du Dragon. In the movie, plantation owners from the south came up to the impoverished north to recruit workers. Hopeful workers were ferried out to L'ile du Dragon by night, examined by the plantation owners, and shipped off families split up in the process at this slave market. In real Hong Gai history, thousands of laborers were brought to the area to work in the coal mines. Intolerable conditions sparked an uprising against the French overseers. The real Dragon Island lies farther south—it was too far out for the film crew of Indochine and is now occupied by the Vietnamese military. This island—Hon Rong—has a French bunker fortification on top of it, with a few heavy US naval guns still in position but no longer functioning.

East of Hong Gai
Adjacent to Halong Bay stretches Bai Tu Long Bay, accessed from Campha, another coal-mining area, or Hong Gai. You can get to Campha by taking a minibus parked near the Hong Gai side of the Bai Chay-Hong Gai car ferry.

Far from the crowds, Bai Tu Long Bay waits to be explored. A full day itinerary from Hong Gai eastwards might take in Hon Oan, Hon Dua (Buddha Praying Peak), Hon Reu (Monkey Island), and Cua Ong Pagoda. Hon Reu, a soil island about four hours from Hong Gai, supports up to 100 monkeys. You must pay a $5 landing fee here to locals living on the island; the fee includes rice for feeding the monkeys, which are raised for traditional Chinese medicinal purposes.

Located between Ha Tu and Campha, Hang Hanh, is the spelunker's special—a tunnel of several kilometers accessible only on certain days of the month when the water level at the tunnel entrance is optimum. You'll need a small boat to access the long grotto; also a strong flashlight to pick out the rock formations and stalactites within. Hang Hanh is unique among the caves of Halong Bay in the diversity and size of its stalactites and stalagmites.

Although fishing and coal-mining constitute the major industries around Hong Gai and Campha, other curious industries have prospered on the inhabited islands east of Campha. Silicate (glass) is made on Dao Quan Lan by a Chinese joint-venture concern. At the midsection of this island is the port of Van Don, which in the 12th to 14th centuries was a thriving exchange point for traders sailing junks from China, Japan, and Java. Trade with foreigners in gold, ivory, and precious wood was forbidden at the time, but smugglers abounded. Today, contraband is still trafficked in here, with beer, stereo systems, video players, and cigarettes brought in from China, Thailand, and Hong Kong.

Pearl prospecting thrives on Dao Co To. Off some islands lie rich abalone grounds—mother-of-pearl obtained from the shells is used in making Vietnam's lacquerware. On far-flung islets, daring climbers collect sea-swallow nests, highly prized for use in medicinal soup.

Bai Chay
Bai Chay and Hong Gai serve as the twin jumping-off points for boat trips to Halong Bay, located 165 km by road from Hanoi and 60 km from Haiphong. Officially, these two places are called Halong City West and Halong City East, but nobody refers to them by these names. Bai Chay and Hong Gai sit on facing slabs of land, connected by a car ferry that operates 24 hours. Should you stay in Bai Chay or Hong Gai? Most travelers choose Bai Chay, which is cleaner, offers a greater range of accommodations and facilities, features a strip of beach and—more to the point—offers the tour boats. Bai Chay has seen significant expansion as a tour resort in the 1990s—with deluxe hotels starting to spring up and karaoke salons proliferating. Even Bai Chay beach has been "renovated" with sand brought in from outlying locations.

Hong Gai is an industrial coal-mining town, and boats must be summoned from Bai Chay for tours. Hong Gai is also more business-oriented, with banking, a post office, and a fair sprinkling of shops. Passenger ferries from Haiphong land in Hong Gai. To get to Bai Chay from Hong Gai, you go three km west to a car ferry, make the five-minute crossing, and travel another two km into Bai Chay. Land distance from Hong Gai dock to Bai Chay Post Office is about five km.

Bai Chay is undergoing development as a major seaside resort, with a flurry of hotel and guesthouse construction. In summer you can swim at Bai Chay Beach or take a boat out to the nearby island of Dao Tuan Chau, which has small beaches and decrepit French villas, including one that served as a vacation retreat for Ho Chi Minh. This island features a solitary hotel that charges a ridiculous $25 a night for poor accommodations; a French company is considering building a high-class hotel. You'll find sandy coves on several of the karst islets around Halong Bay, and you can also swim off your tour boat.

Climate
The weather influences tourism at Bai Chay, Hong Gai, and Halong Bay. In the July-August high season, visitors pack hotels and Bai Chay Beach. Crowds taper off during the shoulder seasons of April-June and September-November. During the November 15-March 15 low season, rates drop for hotels and cruise boats. At this time, however, the weather becomes colder, foggier, and more prone to rain, reducing visibility in Halong Bay. However, there's less competition for boat rentals, and hotels charge less. The coldest months are January and February. For more on weather, see our Vietnam weather page.

Food
There are times in Vietnam when you feel either you're not getting enough food, or it's too bland. Not so in Bai Chay with its great seafood, very reasonably priced. You should always, however, establish prices before dining, especially if the restaurant lacks a menu. Try grilled whole fish, squid, prawns—all fresh, all good. The food is often cooked at the table on charcoal braziers, and served with a garnish of lemon juice, salt, pepper, and spices. West of the post office try Van Song Restaurant, tel. 846084, with excellent seafood and friendly owners, serving fried squid and fish with tomato sauce, as well as pancakes. Close by are Vinh Quang, Minh Binh and Thanh Hung restaurants. On Vuon Dao Street, on the minihotel strip, you'll find Hoang Lan and Hong Minh restaurants. At the northern end of Vuon Dao Street are the markets, which offer fresh ingredients at foodstalls.

Shopping
Souvenir stands line the seafront in Bai Chay, and are scattered around Hong Gai. Buying items made of coral will encourage the destruction of coral reefs. Coal, on the other hand, is a different matter. The shops sell intriguing coal sculptures made by local artisans, often fashioned in the shape of animals such as eagles or lions. Starting price for a smaller sculpture is around $10.

Michael Buckley is author of the newly-published Heartlands. He has also written the Tibet Travel Adventure Guide, Moon's Vietnam, Cambodia, and Laos Travel Handbook, Cycling to Xian , Tibet, and has guided VeloAsia tours in Sumatra and Vietnam.