Victoria Can Tho
An oasis in the Mekong Delta, and even a compelling reason to make the trip at all. The French owned and operated Victoria is one of several properties in Vietnam and Cambodia that have been around Vietnam since the mid 90s. But the Victoria Can Tho is one of our long-time favorites, set overlooking the Mekong (with its own dock), a spacious pool area and lounge, and fabulous, enclosed dining hall (no mosquitoes here) where a French chef prepares a delicious and varied nightly banquet.
The lobby is open and airy and there are no shortage of outdoor lounges, benches, table and tables to relax and enjoy the warm sunshine the Mekong Delta is known for. Departing for the floating markets at dawn is a simple matter, departing by boat from the Victoria's own deck. Optional activities includes cooking demonstrations, children's activities, tennis, swimming, and spa treatments.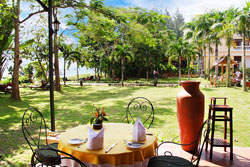 Victoria Can Tho
The spa offers treatments and offers some of the best massages in Vietnam, but plan to spend some of your visit for simply lazing by the Victoria's pool, a pleasant place to relax and read while sipping iced tea. On our three day trip, you can spend two nights at the resort giving you a day in between driving from and back to Saigon.
This hotel is highly recommended for families and a romantic escape. It is also our popular trip for expats based in the region, easily accessible from Bangkok, Singapore and Bangkok (read more about our Mekong biking trip on Expat Singapore). The Victoria More on Victoria Hotel Web Site.