Before anything else, it is prudent to confirm your international airlines — seating often fills months, even a year, in advance into Vietnam. If you're using miles, you'll have to do it direct with your program — please see below for more information on miles programs. Mileage seats can be hard to come by for popular routes and high-season.

Best choice? Cathay Pacific has the most direct routing from LAX, SFO, and Vancouver via Hong Kong into Vietnam, but other airline carriers that travel to Vietnam which you may want to consider are EVA (Evergreen Deluxe is a popular booking, business-class seating at an economy price), Singapore, China, United (now direct from San Francisco), Lufthansa, Thai Airways, and soon, Vietnam Airline (but these airlines may have longer routing into Vietnam, such as Thai which flies to Bangkok, then back eastward to Hanoi). We recommend Cathay Pacific for the most-direct routing, service quality, and no charge return from Bangkok (if you decide to visit Angkor). Moreover, the new airport in Hong Kong is also efficient, allowing short transfer times or easy access to the city.

Several of these airlines now offer their best fares or deals on their Web site. Also contact local airline consolidators in New York and the West Coast.

Note: While fights into Singapore, Thailand and Bangkok may be inexpensive, the additional connection into Vietnam can add quite a lot to the cost, especially if you book these legs separately such as from Hong Kong — obtain a quote for routing all of the way into Vietnam.

When considering what airline, also check your local hub. For instance, Korean Air is based at Dulles, so there are some decent fares and good routing to be had.

Please note: Please forward your final itinerary to use so we can schedule your airport pick and drop off.

Please check the links below for more detailed information on routing and other options for your respective tour below. Here is also a link to everything you wanted to know about discount ticketing and consolidators.

* Regional Budget airlines: BEWARE! Airlines in Southeast Asia have reached a point of reliability, safety, and in the case of a few, world-class service. Don't risk your money or your life with the new budget airlines which have so far performed extemely poorly, including a recent crash — let alone canceled flights, non-existent service, and non-refundable tickets.

FREQUENT FLYER PROGRAM

Cathay is a member of the One World travel alliance which partners with and may enable you to use your American Airlines miles. Singapore, Lufthansa and Thai Airlines are partners in the Star Alliance of which United Airlines and Air Canada are members. Often frequent flyer miles may only get you part of the way, to Bangkok or Hong Kong for example. You should know the separate ticket required to get you into Vietnam can be quite expensive so make sure to check into ticketing all the way into Vietnam.

WHEN DO I LEAVE AND RETURN?

Airline travel to Vietnam and Asia is somewhat confusing as you lose a calendar day crossing the International Dateline (as well as losing one in transit). But this also means you'll gain it on the return (arriving the same date as you depart Asia). For example, your travel dates may be approximate to this hypothetical itinerary:
February 1,2: USA to Vietnam
February 3,4,5: Kayaking in Halong Bay
February 6-17: Lunar New Year Cycling Tour
February 18-20: Angkor Tour
February 21: Saigon or Bangkok to USA
For more specific information on the most popular airline routes and times, please follow one of the links below:
AIRLINE SAFETY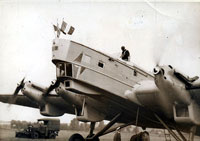 Early Tupolev
Not to worry, Vietnam Airlines has retired their ancient Russian Tupolevs (and worse, the Yakolev-40), and now conforms to international safety standards for aviation, flying newer Boeings and Airbus for international routes and, domestically, French ATR, and German Fokker aircraft. We wish we could report the same progress for tourist immigration procedures.
For more on Vietnam Airlines history, see Michael Buckley's article Flying Ghosts.