Flying Ghosts
by Michael Buckley
(excerpted from the Vietnam, Cambodia and Laos Handbook by Moon Publications).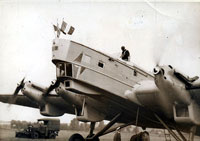 Early Tupolev
In the mid-1980s the Vietnamese government issued a series of stamps showing historic aircraft--a German Fokker Triplane from 1917, a Soviet Yakolev II from 1946. Cynics wondered if these planes weren't part of Vietnam's newest fleet. Indeed, in the embargo days, Vietnam's fleet was composed mostly of aging Russian Tupolev-134 jets and Ilyushin-18 turboprops that groaned and creaked when aloft. For hair-raising flights, nothing beat the Yakolev-40 light aircraft. In Vietnamese, Vietnam Airlines is rendered Hang Khong Vietnam, which foreigners quickly dubbed "Hang On Vietnam." Former fighter pilots specialized in vertical takeoffs and landings, learned from wartime days. Exit doors--if you could find them--were marked in Russian.
Vietnam Airlines was forced to use Russian aircraft because the embargo prevented leasing planes with American technology or parts. In 1992 Vietnam Airlines found a way around the restrictions by chartering instead of leasing planes, and by agreeing not to fly under its own name. This resulted in the acquisition of two Boeing 767s and a Boeing 737 painted completely white--somewhat disconcerting to passengers like myself boarding in Bangkok. After our flying ghost took off, we were relieved to hear a French accent emanating from the cockpit--hopefully the pilot. The in-flight service was uniquely Vietnamese: a hostess dressed in a dreamy ao dai trundled down the aisle to deliver a single fruit to each passenger. I gazed at the fruit in wonder: I'd never seen this species before. Here I was on an unmarked plane with an unknown fruit. A new species at 7,000 meters! Puzzled, I turned to my neighbor, a Vietnamese woman, and she instructed me in sign language how to dissect the fruit and which parts to eat. It was delicious.
In mid-1992, Vietnam Airlines purchased two 80-seat ATR-72s from France. The ATR-72 is a turboprop made by Avions de Transport (ATR), a joint venture between France's Aerospatiale and Italy's Alenia Spa. With the lifting of the embargo, Vietnam Airlines is retiring its old Russian crates--the Tupolev jets--to boost the airline's safety reputation. There are maintenance concerns with the Tupolevs, which have to be flown to Moscow for checks. The airline's fleet now includes Airbus A-320s leased from Air France, an assortment of leased Boeings, and a handful of ATR-72s.
After getting the cold shoulder from the US for so long, Vietnamese airline officials are suddenly being treated like royalty. Delta was the first airline to host a visit to the US by Vietnamese executives. Nguyen Hong Nhi of Vietnam Airlines was wined and dined, given a tour of Disney World, and photographed next to a Wookie, the furry copilot in Star Wars. It was a bizarre experience for Nhi, a former air force general who shot down eight American aircraft in his MiG-21, but he said he had "a lovely time" in the States.

© Michael Buckley, All Rights Reserved, No Duplication Without Author's Consent
For more information on airlines, please see our Vietnam Airline's Information Page.
Michael Buckley is author of the newly-published Heartlands. He has also written the Tibet Travel Adventure Guide, Moon's Vietnam, Cambodia, and Laos Travel Handbook, Cycling to Xian , Tibet, and has guided VeloAsia tours in Sumatra and Vietnam.