T: (415) 680-3788
T: (415) 680-3788
F: (206) 350-4208
Family & Friends
Private Tours
Central Coast World Heritage: Hue to Hoi An
Vietnam's central coast, encompassing Hue to the north, Danang, and Hoi An to the south, features the richest concentration of historical sites, picturesque landscapes, pleasant towns, and finest cycling routes in the country. It is truly the heartland and always the highlight of our regular two-week tours. Along with the Mekong Delta and kayaking on Halong Bay, this is one of our most popular family trips and if you've only time for a short cycling tour in Vietnam, this should be the one.



DETAILS
4-days from Hanoi or Saigon
Road Cycling w/ Full Support
All Cycling Abilities
95% Paved Country Roads
Custom trip (year-round)
Family Friendly
Landcost: From $580/ person
Children 25% discount
Single Traveler: From +$288
Airline: RT $148 From Hanoi
Rental Bike: Included
Recommended Hotels
Hotel Hue: La Residence
Hotel Hoi An: Victoria Resort
Luxe Hoi An: The Nam Hai



ITINERARY BRIEF

1 Hanoi to Hue
2 Hue
3 Hue to Hoi An
4 Hoi An

- - - 2-day extension - - - -

5 Hon An to Qui Nhon

6 Qui Nhon to Nha Trang

TOUR EXTENSIONS
Kayaking Halong Bay (3 days)
Temples of Angkor (3 days)
Mekong Delta (3 days)
Begin your tour exploring Hue, the ancient Imperial Capital and cultural, religious and educational heart of Vietnam. The landscape here — with its misty Perfume River and pagodas — is inspiration for poetry and painting. Thirteen successive emperors ruled Vietnam from Hue, building the Mandarin Road, now Highway One. In the finest Chinese tradition, the emperors constructed elaborate tombs, scattered around the lush countryside. These monuments are on the UNESCO World Heritage list.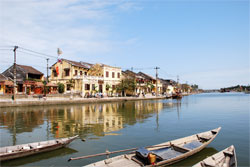 In more modern times, neutral Hue was broadcasted across the world's television sets as the Viet Cong and North Vietnamese soldiers fought furious door-to-door battles within the city.
From Hue, cycle south over some of the most scenic coastal roads in Vietnam, over the dramatic, six-mile Hai Van Pass and descending into the outskirts of Danang.
After a brief visit to this equally well-known city from the war era, continue south past China Beach to the jewel of Vietnam — Hoi An. An ancient port town on the Thu Bon River and close the ocean and the scenic Cua Dai Beach, Hoi An has rare traditional architecture, pleasant setting, gracious people, sophisticated crafts and tailoring, and most important from a cyclist's perspective, fantastic cuisine. Accommodation is at the French-run Victoria overlooking Cua Dai Beach, providing a perfect backdrop to relax at the end of your tour ro stay at one of Vietnam's top two resorts, the fabulous Nam Hai.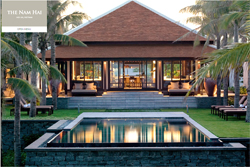 Note: Organized for all cycling abilities. Great for couples and families. A support vehicle will ensure you cycle as little or as much as you like. We have options for longer or shorter custom tours, from 3 to 12 days in length — please contact us for more information. This trip is suitable for children of all ages and all riding preferences and abilities.