Day 1: Arrive Hanoi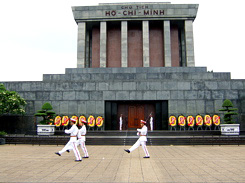 Arrive decades-old Noi Bai Airport, where ancient Russian MIG fighters still take to the air. The cultural and political capital of Vietnam, Hanoi has slumbered largely unchanged since the sixties. Step back in time on the French-built, tree-lined boulevards and old quarter, which has been continuously inhabited for over 1,000 years (Hanoi celebrated it's millennial anniversary in October, 2010).
Meet escort after clearing immigration* and customs at Noi Bai Airport and transfer to accommodation on Hoan Kiem Lake. Afterwards, we'll begin sightseeing in the lake area by traditional cyclo (pedicab) before our dinner orientation together at one of Hanoi's wonderful restaurants.

* Note: visa required in advance of arrival (please check your pre-tour packet for forms and detailed instructions)
Metropole

(Deluxe Lounge Floor Opera Wing)

International SOS
31 Hai Ba Trung, Tel: (84-4) 934 0666 (Emergency medical and evacuation coverage provided for all travelers)

La Verticale
Day 2 Hanoi City Tour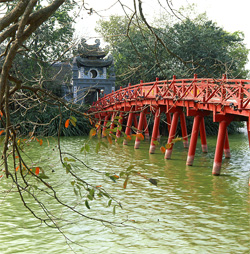 Hoan Kiem Lake
Today, sightseeing at Hanoi's more interesting landmarks, rising at dawn to wander the morning markets before driving to visit the Ho Chi Minh Mausoleum where "Uncle Ho" lies in state and the nearby centuries-old Temple of Literature.
Afterwards, breaking for lunch featuring Cha Ca, a delicious 5th-generation turmeric grilled fish dish, at Cha Ca Va Long before venturing out on foot in the central lake area to explore the busy Old Quarter's shops, galleries, markets, historic sights, and pausing to visit a local family in their traditional "tube" house. In the afternoon, we'll enjoy an activity becoming popular with the Vietnamese, although we recommend it as our favorite jet lag cure -- an herbal soak, steam bath and sauna, followed by massage.
In the evening, delightful water puppets theater — a performance art unique to Vietnam, before dining at one of the capital's fantastic local restaurants. (B,L,D)

Bia Hoi, happy hour, is a post-work custom unique to Hanoi, with draft beer and snacks served up in street cafes. Other culinary treats? The best pho in the country is in Hanoi, don't miss a piping hot bowl in the Old Quarter, elbow-to-elbow with the locals (ask your guide for the better places).
Day 3 & 4 Halong Bay Kayaking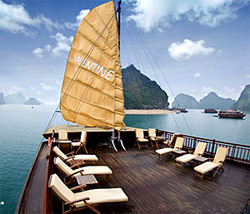 Hanoi to Halong Bay via private car, stopping en route to admire the picturesque landscape and villages en route. After arrival, board traditional wooden yacht for seafood lunch while cruising out onto the bay.
After docking to hike in Hang Dau Go (Hiding the Timber Cave), the largest grotto in the Halong (everyone going to Halong does this, but it's worth a glance and allows us to prep the kayaks). Afterwards, boarding kayaks for afternoon paddle with your guide. In the afternoon, cruising out into the further reaches of the bay away from other tourists boats along our own unique route. From the deck, enjoy the beautiful sunset and seafood dinner of fresh, local catch.
Overnight on board in air-conditioned private cabin with lavatory (Valentine)
Day 5 Hue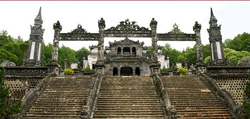 Vietnam's most tranquil city remains largely unchanged by economic expansion in the south. After breakfast, venturing out onto the boulevards along the Perfume River by bike and out into the countryside through seldom-visited villages, pausing to explore two of the finest examples of Imperial architecture, the Tu Duc and Khai Dinh Royal Tombs.
Afterwards, continued cycling through the countryside, pausing for a lunch, and then cycling through small villages along quiet roads outside the city, stopping at secondary tombs and places along the river. We'll also visit a local school where the children will be very excited to see us. In the afternoon, there is time to enjoy a massage before dinner. We'll travel by traditional pedicab to have special dinner at the restored mandarin home of a royal ancestor, tasting local specialties such as banh xeo, a Vietnamese crepe during our hands-on cooking demonstration.
La Residence

(Deluxe River View)


Hue Central Hospital, 16 Le Loi, Tel: (84-54) 382-2325

Only with VeloAsia: late afternoon drink at the lounge atop the Imperial Hotel with panoramic views over the city, looking out with your map to figure out where we cycled today. Where are the restaurants? It appears Hue would be the perfect setting for restaurants, with the Perfume River cutting through the city like the Seine through Paris. Alas, the people of Hue have no time for it, the city is renowned for education and deeper interests. Indeed, Ho Chi Minh was from the area.
Day 6 Hue to Hoi An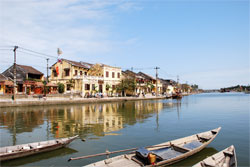 A longer day of cycling, departing Hue through the high-walled Imperial Citadel and then biking along the scenic coastline passing burial tombs, small villages and emerald green rice fields to the blue waters of Lang Co Lagoon. After a seafood lunch in Lang Co, we'll conquer the 10-kilometer long, 500-meter high Hai Van Pass (Pass of the High Clouds). At the summit, we'll explore French and U.S. forts while savoring panoramic views of the of the coast all the way out to Danang.
After a thrilling descent to the green rice fields and white-sand graveyards around Danang, we'll dismount our bikes and board our bus for transfer through the busy traffic around Danang into Hoi An.
Afternoon arrival in Hoi An, typically everyone's favorite stop in Vietnam. After strolling the quaint town center, we'll enjoy dinner of local dishes, including White Rose, a Vietnamese won-ton.
The Nam Hai

(Beach front Villa)


Miss Vy's Cargo Club or Morning Glory
Day 7 Hoi An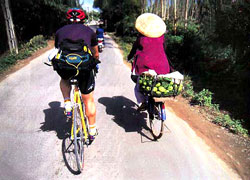 After breakfast, exploration of charming Hoi An by foot, beginning with the central market, shopping for ingredients with chef for a half-day, hands-on cooking demonstration. After preparing local and dining for lunch of delicacies, such as white rose (a variety of won ton) or bun rieu (right), balance of day free at leisure to relax on Cua Dai Beach or boating across the Thu Bon River to enjoy tranquil cycling through local villages along the coast. In the afternoon, visiting Hoi An's crafts shops and renowned tailors to be tempted by the town's famous "overnight tailoring."
At dusk, cruising by private boat along the river to the elegant open-air Red Bridge Restaurant. (B,L)

The Red Bridge

Hoi An brings all the best of Vietnam together in one place, traditional architecture, delicious local cuisine, picturesque setting, and friendly townspeople. Optional activities (or non-activities) include: lazing at the beach, cooking class at the Red Bridge Restaurant, or half-day spin cycling outside the town.
Day 8 Hoi An to Siem Reap (ANGKOR)
After leisurely morning, flying to Siem Reap, our base for exploring the nearby Khmer temples at Angkor. After arrival, we'll enjoy a lunch of classical Khmer cuisine during orientation. In the afternoon, mounting bikes to ride out to the earliest of the Khmer Empire temples, the Roulous Group. Departing Siem Reap we'll pedal small back roads into the remote landscapes and past small villages. Our first stop is the temple of Bakong in the Roluos group, the first of the great pyramid mountains which were to become the signature of later kings. From Bakong, we continue into Roluos town to visit a local market, untouched by tourism. In the afternoon, return to Siem Reap to freshen up or have a dip in the pool before dinner.
Tonight, a delicious banquet at Siem Reap's finest restaurant. (B,L,D)
Cycling Distance: 30 kilomters over flat dirt and paved roads.
Day 9 A N G K O R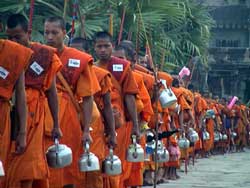 After breakfast, depart Siem Reap by tuk tuk to our drop off point in front of Banteay Samre. Banteay Samre was constructed King Suryavarman II in the mid 12th century. People refer to this temple as a miniature Angkor Wat due to its completeness and similarities to Angkor Wat. From Banteay Samre, we follow a paved road to Phnom Bok. On the way, several war remnants can be seen in the paddy fields. Upon arrival at Phnom Bok, we climb the 600+ steps for immense views over the surrounding area. In the distance, the Kulen hills are also visible on a clear day. On top of Phnom Bok an ancient ruin overlooks the plains below.
Drinks are served to cool off. A short cycle from Phnom Bok, in between the paddy fields with the Kulen Hills as a marvellous backdrop, lunch will be taken. A local family hosts our lunch. We head to Banteay Srei, Angkor's ultimate art gallery. This petite pink temple is the jewel in the crown of Angkor-era sculpture. The elaborate carvings here are the finest found in Cambodia. Some 6kms from Banteay Srei the Landmine Museum is visited to learn more about Cambodia's underground war. Mr. Aki Ra, a former Khmer Rouge child soldier now dedicates his life to help the people of Cambodia by clearing these enemies within.
Day 10 A N G K O R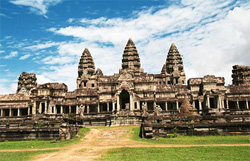 This morning, exploring the the world's most magnificent temple, Angkor Wat at sunrise. Balance of morning canvasing the immense strecthes of reliefs and galleries until lunch (picnic lunch at the temples).
Late morning, return to airport for flight to the temple-city Luang Prabang in northern Laos. In the afternoon, exploring the sublime historical and religious treasures of the tranquil small town. In the evening, enjoying a private, traditional welcoming ceremony in the home of a local family.
Day 11 Luang Prabang
Today we'll ride the initial, quiet and scenic section out of Luang Prabang which after 18 miles, joins a larger road with traffic coming in from China. Mostly flat with short rollers. After riding until lunch (at 54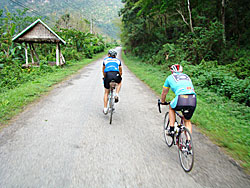 miles), boarding a longtail boat for the remaining distance to Luang Prabang, once we reach the Mekong River making a slight upstream detour to visit the renowned Pak Ou caves. Located beside the river, the cave is filled with Buddha images and is a sacred place of worship for locals. After the caves, continued cruising downstream to Luang Prabang. In the late afternoon we arrive Luang Prabang, one of Asia's gems and a UNESCO World Heritage. It is pleasantly located at the confluence of the Mekong and Nam Khan Rivers and encircled by distance jagged peaks. In recent years it has been a popular, but not spoiled tourist destination, but it will be a bit of a shock to see so many tourists for the first time since Hanoi. In the evening a private baci ceremony, a traditional lao welcoming ritual for centuries. (B,L,D)
90, or 139 km (54 or 85 miles). Flat initially, then longer rollers. Traffic near Luang Prabang.
La Residence Phu Vao, Luang Prabang Town, Tel: (856-71) 212194
Weather in Luang Prabang for December and January is dry and in the 70s to low 80s during the daytime.
Day 12 Luang Prabang
Sleep in for a change or rise at dawn to view traditional alms procession of monks passing through town (right). Afterwards, we'll walk the small town, visiting the temples Luang Prabang in known for and meeting in one with monks to discuss their lifestyles. Also visiting other notable sites, including the colonial-era royal palace and museum. For lunch, we'll explore the central food market sampling street foods.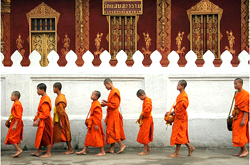 In the afternoon, driving over to explore the local Phusi marketplace and other sites in town until late afternoon. At dusk, we'll trek to the summit of Mount Phousi for panoramic sunset.
Afterwards, wandering the sprawling night market before dining on delicious lao food. (B)
Luang Prabang's night market is one of the best in Indochina for finding unique, handmade goods and at a bargain rate. The market makes a good stop after watching sunset from Mount Phousi. How much to bargain? Typically, counter with offer that is about 1/3 or 1/2 from the price quoted. To see where the locals shop, take a tuk-tuk out to Phuosi Market, about 1 kilometer from the central area.
Depart Asia
Farewell to staff before return for return flight home (or continue on to the Thai islands). Cam on nghieu lam, hen gap lai (thank you very much, see you again)!
---
Legend for Included Meals: B=Breakfast, L=Lunch, D=Dinner
---
Cycling Ability
For longer riding, you should be a comfortable cyclist in terms of skills with bike handling, not fitness, and have experienced cycling roads typical in a developing country. Although we do our best to skip busier sections and take advantage of side roads, you should feel comfortable riding with some amount of traffic. We would be glad to put you in contact with past travelers, of all abilities, if you would like more feedback.
Landcost
Your tour fees cover almost everything, but please do check for details of what is and what is not specifically included. Seasonally-imported Raleigh USA and Trek hybrid bikes included at no extra charge. Compare our tour itinerary and costs with Backroads and Butterfield and Robinson.
International Airline

Tour Notes
Vietnam reaches far beyond the historical and scenic sites we offer on this itinerary and we encourage exploration on your own at anytime during the tour. Additionally, we may modify the itinerary often to improve the quality of our trips but more often by necessity. Delayed flights, weather extremes, undeveloped infrastructure, an overall diminished sense of urgency, and other conditions that may be beyond our control all play havoc with careful preparations. We respectfully ask you carefully consider if traveling under such conditions would be unpleasant for you.