- Medium sized day bag/backpack for easy access
- Light rain/windbreaker jacket
- Sunhat and sunglasses
- Medications, balms, and lotions
- Gel or spor sunscreen & lip balm
- French round-prong electrical outlet adapters (not always necessary*)
- Mobile adapter and spare charger
- Swimsuit
- Cycling shorts, jerseys, cap, gloves, walking and cycling shoes.
-bandana or scarf (to cover neck)
- small Dr. Bronners travel soap
- small tissues pack for biking
- French to English/English to French menu booklet or guide
*Most French dual outlets also accept American-style flat prong plugs
French Climate
In May, early June, late Sept. and Oct. mornings can be cool and a light to medium wind breaker and sweater are recommended. Weather is pleasant during the days, often reaching 80s and mile in the evenings.
Baggage
Standard weight limit for checked baggage on international carriers is typically 2 bags totaling 23kg (about 50 lbs.) in economy plus.
Money Matters In France
The French national currency, the Euro (EUR), exchanges at about 0.80 to the US dollar (US$10 will buy you around 8 Euros). Note that poorer rates usually given by exchanges the closer you are to tourist attractions and airports and train stations. ATMs are common, but some banks limit withdrawals and waits and invalid card errors are common. Credit cards can be a problem for government and other purchases, such as gas stations. During your trip, allow for extra expenses such as laundry and drinks.
Tipping
French restaurants add a service charge of 15%. We suggest tipping drivers about €10 and guides about €20 per day, per person in your group.
French Electrical
Don't worry about adapters. France uses 220 volts in contrast to U.S. 110, but most phone, tablet, kindle, camera and other adapters adjust to 220V but not hairdryers (best to buy in France). Power outlets typically accept US-style plugs.
Mobile Phones in France
Most mobile providers will automatically switch to roam upon arrival in France. The days of exhorbitant roaming fees are mostly gone, but check your carrier rates before departure.
Cycling
Obviously, the better shape you're in, the more you will enjoy this trip. However, this is a casual cycling trip and any all cycling is per your individual preference. Our support van is always nearby for a short lift, or to wrap up for the day.
Paris Transportation
Navigation around Paris can be challenging by taxi, depending on traffic and location. The Metro can be more of an effort, stairs and winding corridors by is reliable and seldom delayed. In Paris Uber is the best bet over local taxis.Also re-confirm the morning of your ride with the dispatch office (noting the reservation number), then confirm with your driver exactly where you are going, and when you need to be there.
Cultural Considerations
Relax, and don't pay much attantion to travel advice that claims things like "you must speak the local language" or other ways you will offend locals. It's far overblown. Parisians, for example, host tens of millions of travelers each year and the odds are you will not be extraordinary for bumbling your bakery order or a forgotten greeting. In fact, you may find it is locals being brusk with you as any visitor to New York City experiences.
Crimes and Scams
Car break-ins are common, pick pocketing as well. If anyone approaches you, it is likely a scam, do not stand within reach or best, do like the locals do and do not even engage.

Books on France
Reads hear are mostly related to our two favorite subject on France—cycling and cuisine (yes, you will really enjoy Julia Child's book). There's something here for everyone: fiction, history, biking, high-brow, irreverence, and even a memoir with little to do with, but just enough about France (Jim Harrison). —Patrick Morris
My Life in France by Julia Child
The Great Domaines of Burgundy: A Guide to the Finest Wine Producers of the Cote d'Or by Remington Norman
The First Tour de France by Peter Cossins (highly recommended. As much about the early history of France as the race, which transformed the country).
Burgundy and Its Wines by Nicholas Faith
Sixty Million Frenchmen Can't Be Wrong by Jean-Benoit Nadeau
Off to the Side by Jim Harrison
Paris out of Hand by Karen Elizabeth Gordon
Paris, The Secret History by Andrew Hussey
A Year in the Merde by Stephen Clarke
The Table Comes First by Adam Gopnik
The Elegance of the Hedgehog by Muriel Barbery
French Revolutions: Cycling the Tour de France by Tim Moore (all of his books are good: rich in humor, travel, and cycling)
Slaying the Badger: Greg LeMond, Bernard Hinault, and the Greatest Tour de France by Richard Moore
French Illusions: My story as an American Au Pair in the Loire Valley by Linda Kovic-Skow
Joan of Arc: Her Story by Régine Pernoud
Queen of Fashion By Caroline Weber
Words in a French Life: Lessons in Love and Language by Kristin Espinasse
DK Eyewitness Travel Guide: Loire Valley by Jack Tressider
The Discovery of France: A Historical Geography by Graham Robb
A Year in Provence by Peter Mayle
French Animation
The French enjoy a prodigious animation industry producing amazong books, video and film. A brief glance of the shelves in a children's bookstore will surprise you about the depth and breadth of animated books. Yugoslav immigrant Enki Balal's work was made into the remarkabe Immortele and Triplets of Belleville, a dark comedic tale surrounding the Tour de France, which finished 2nd to Nemo for an Academy Award, .
Paris Museums
Rare are cities that curate and exhibit as Paris does each season. Consider secondary places you not hear of, whic may be more impressive than the popular venues, including the Palais de Tokyo, Arts & Metiers, Musée du quai Branly, whose annual exhibitions can be impressive and less touristy than the Louvre.
Dining in Paris
The 10 & 11th quarters are worth exploring featuring nouvelle cuisine and opportunities for simply good eating without the pretense, fuss, or expense. If you've not yet seen Anthony Bourdain's piece on Paris,(The Layover) he covers some of this district as well (click for YouTube Video). For example, at Philou, a busy bistro near the Canal Saint-Martin you'll find super friendly service, in English if need be, and a local feel with reasonable prices for its great wine list and delicious cuisine.

Philou
12 Avenue Richerand (10th)
Tél: 01 42 38 00 13
Métro: République, Goncourt, or Jacques Bonsergent
View larger map
Tacos? El Guacamoleis what you have never expect in Paris—artisanal tacos prepared by Spanish cooks. Before you think "I don't miss tacos that much," understand these are delightful, with a variety of taco choices and unique and tasty ingredients. Bonus: located only about 50 meters away is a wonderful bakery.

El Gaucamole
37, rue Yves Toudic
Tél: 01 42 41 09 09
Métro: République, Goncourt, or Jacques Bonsergent
With
two sister restaurants in the 5th & 6th quarters
.
Du Pain et des Idées
34 rue Yves Toudic
75010 Paris
01 42 40 44 52
http://dupainetdesidees.com/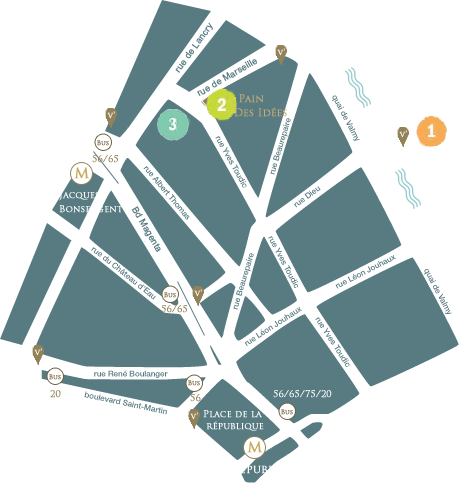 Further afield from the 10th:
Braisenville
36, rue Condorcet
MÉTRO : Anvers, Poissonnière & Barbès - Rochechouart
TÉL : +33 9 50 91 21 74
open monday through saturday from 7.30pm to 11.30pm closed sunday
With the kids?
Many a Parisian recalls dinners as a child at Pizza Pino on the Champs, where afterwards you can visit the Formula 1 and Adidas shops.
Pizza Pino
31 -33 Champs-Élysées
Tel: +33 1 40 74 01 12
Metro : Franklin D. Roosevelt
Bus : 73
http://www.pizzapino.fr/