F R A N C E T R I P N O T E S
Passports and Visas
A passport with validity six months beyond your trip is required. No visa is required for France.
Vaccinations and Health
No vaccinations required nor recommended. Please do secure adequate travel insurance for any mishap that may occur.
Packing
In addition to your everyday clothes and things, we suggest bringing:
- Medium sized day bag/backpack for easy access
- Light rain/windbreaker jacket
- Sunhat and sunglasses
- Personal medications
- Gel or "sport" sunscreen & lip balm
- French "round-prong" electrical outlet adapters
- Camera with spare battery & card
- Swimsuit
- Cycling shorts (baggy or tight), jerseys, gloves, and comfortable walking and cycling shoes.
-bandana or scarf (to cover neck)
- small Dr. Bronners travel soap
- small tissues pack for biking
- French/English menu guide
Climate
In May, early June, late Sept. and Oct. mornings can be cool and a light to medium wind breaker and sweater are useful.
Baggage Allowance
Standard weight limit for checked baggage on international carriers is typically 2 bags totaling 23kg (about 50 lbs.) in Economy plus.
Money Matters
The national currency of France is the Euro (EUR), with exchange
rate of about 0.75 to the USD, with the poorer rates usually given by exchanges the closer you are to tourist attractions or train stations.
ATMs are common, but some banks limit withdrawals and malfunctions are common. Credit cards can be a problem for government and other purchases, such as gas stations.
During your trip, allow for extra expenses such as laundry and drinks.
Tipping
Restaurants add a service charge of 15%. We suggest tipping drivers about US$10 and guides about US$20 per day, per person in your group.
Electrical
France uses 220 volts (U.S. is 110V), but
Most phone, tablet, kindle, camera and other adapters adjust to 220V but not hairdryers (best to buy in France).
Mobile Phones
To avoid expensive roaming fees, you may have your phone unlocked and buy a sim card after arrival although your number would differ. You may also buy a local phone for about $50.
Internet
Internet access is available in all hotels, most of which offer wireless.

Transportation
Navigation around Paris can be difficult by taxi, depending on traffic and location. The Metro can be more of an effort, stairs and winding corridors by is reliable and seldom delayed. If securing a taxi for the train station or airport it is imperative to arrange one in advance, in some areas during peak times, finding one on the spot may be impossible. Also re-confirm the morning of your ride with the dispatch office (noting the reservation number), then confirm with your driver exactly where you are going, and when you need to be there.
Books
Nothing like a few good books to get you up for your trip. These are some of our favorites (yes, we did really enjoy Julia Child's book). There's something here for everyone: fiction, history, biking, high-brow, irreverence, and even a memoir with little to do with, but just enough about France (Jim Harrison). ~Patrick Morris
My Life in France by Julia Child

The Great Domaines of Burgundy: A Guide to the Finest Wine Producers of the Cote d'Or by Remington Norman

Burgundy and Its Wines by Nicholas Faith

Sixty Million Frenchmen Can't Be Wrong by Jean-Benoit Nadeau

Off to the Side by Jim Harrison

Paris out of Hand by Karen Elizabeth Gordon

Paris, The Secret History by Andrew Hussey

A Year in the Merde by Stephen Clarke

The Table Comes First by Adam Gopnik

The Elegance of the Hedgehog by Muriel Barbery

French Revolutions: Cycling the Tour de France by Tim Moore

Slaying the Badger: Greg LeMond, Bernard Hinault, and the Greatest Tour de France by Richard Moore

French Illusions: My story as an American Au Pair in the Loire Valley
Linda Kovic-Skow

Joan of Arc: Her Story by Régine Pernoud

Queen of Fashion By Caroline Weber

Words in a French Life: Lessons in Love and Language by Kristin Espinasse

DK Eyewitness Travel Guide: Loire Valley by Jack Tressider

The Discovery of France: A Historical Geography by Graham Robb

A Year in Provence by Peter Mayle
Animation
The French are prodigious in animated books, video and film. A brief glance of the shelves in a children's bookstore will surprise you about the depth and breadth of animated books. Yugoslav immigrant Enki Balal's work was made into the remarkabe Immortele and Triplets of Belleville, which finished 2nd to Nemo for an Academy Award, is a comedic tale surround the Tour de France.
Dining
The 10 & 11th quarters are always worth exploring, here is the nouvelle cuisine and opportunities for simply good eating without the pretense, fuss, or expense. If you've not yet seen Anthony Bourdain's recent piece on Paris,(The Layover) he covers some of this district as well (click for YouTube Video). For example, at Philou, a busy bistro near the Canal Saint-Martin you'll find super friendly service, in English if need be, and a local feel with reasonable prices for its great wine list and delicious cuisine. Reservations a must:

Philou
12 Avenue Richerand (10th)
Tél: 01 42 38 00 13
Métro: République, Goncourt, or Jacques Bonsergent
View Larger Map
If, like us native Californians, start to crave you Mexican after an extended period in Paris you may rest easy. El Guacamole is what you may have never expect in Paris, artisanal tacos prepared by Spanish staff. Before you think, I don't miss taco that much, these are special, even for California with a borad variety of taco choices and ultra fresh and tasty ingredients. Bonus: located only about 50 meters away is a favorite bakery.

El Gaucamole
37, rue Yves Toudic
Tél: 01 42 41 09 09
Métro: République, Goncourt, or Jacques Bonsergent
With two sister restaurants in the 5th & 6th quarters.

Du Pain et des Idées
34 rue Yves Toudic
75010 Paris
01 42 40 44 52
http://dupainetdesidees.com/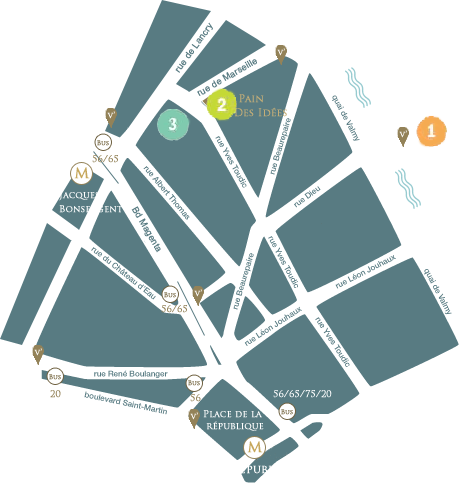 Further afield from the 10th:
Braisenville
36, rue Condorcet
MÉTRO : Anvers, Poissonnière & Barbès - Rochechouart
TÉL : +33 9 50 91 21 74
open monday through saturday from 7.30pm to 11.30pm closed sunday
With the kids?
Many a Parisian recalls dinners as a child at Pizza Pino on the Champs, where afterwards you can visit the Formula 1 and Adidas shops.
Pizza Pino
31 -33 Champs-Élysées
Tel: +33 1 40 74 01 12
Metro : Franklin D. Roosevelt
Bus : 73
http://www.pizzapino.fr/
QUESTIONS? Call us in San Francisco at (415) 680-3788 or Email us
We are happy to answer questions or inquiries.