Weather in Vietnam
When is the best time to travel to Vietnam for weather? Travel companies often say "there's no
good or bad time to go, when one place is wet another is sunny..." Hmm, not much help — as a traveler you're likely to be interested in visiting several parts of the country, not just one area. While some places, like Sapa at over 1,000 meters can be freezing during the winter months, typhoons can occur in other months. Overall, the best time to go is December through May or even June when rainfall is minimal and there are warmer but not extreme temperatures.
In general, don't be dissuaded by this possibility of this rain outside the monsoon season (or in the monsoon season), unless your set on having beach time — the light drizzle will not interfere much with sightseeing and places such as Hue and Hanoi often have overcast weather with light rain (see photo of our bikers going for it!). Absolutely need your Vietnam trip to be a sunny one? Then May through mid-July is a good window. If you're planning a September or October trip during monsoon season, rain typically arrives in the afternoon but the weather is warm and comfortable averaging nearly 80 degrees. Monsoon rains also typically only come every other day, leaving bright sun in between. One BIG caveat: seasonal typhoons and annual flooding occur in September and October on Vietnam's central coast! In 2011, for example, in early and mid-October there was severe flooding throught out the region, including the temples of Angkor and Bangkok.
Only a little drizzle — let's ride!
Like much of Southeast Asia, Vietnam weather is tropical weather with a monsoon season which means while there are relatively slight variations in temperature, depending on the season and the altitude, the primary seasonal changes in Vietnamese weather are marked by variations in rainfall. Vietnam is typically humid and warm, although the weather can vary significantly from one area to another due to the long length of the country which encompasses several weather zones.
Note for Sapa and travelers by region: Weather in Vietnam can be affected by variance in altitudes. For example, in late 1999 there was snow in Vietnam (in Sapa, located at over 4,000 feet) while it was nearly ninety degrees in sweltering Saigon. Flooding is common in the central coast region around Hue and Hoi An and Vietnam had back-to-back years of devastating flooding in this region during 2000 and 2001, and 2010 — travel companies may list tours for the rainy period, but plan your trip dates carefully or your trip may be a washout. Though the weather overall is good, the weather may also fluctuate during the tourist season (December through March), when cold spells and/or unexpected rain may pass through. In 2008, the north and central Vietnam experienced it's coldest weather in over 40 years, and the usual sunny skies on the central coast gave way to consistent rain and very chilly weather all the way to Nha Trang.
Vietnam Weather Cheat Sheet
IN GENERAL VIETNAM IS...
* South = Always warm
* North typically cool, warm by March
* Central Coast = mixed bag
* Weather often fluctuates Nov to March
REGIONAL WEATHER TRENDS
December to early March: Cool + Rain in North
Mid-March to June: Sunshine!
July: Getting hot, rains beginning
Sept and October Monsoons, wet but warm
BEWARE
* Sept and October: Typhoons possible!
* November: Hue and Hoi An floods possible
* Sapa freezing in Winter

Temperature remains almost constant in Saigon, rain or shine, while in Hanoi there is a marked cooler season from the chilled winds blowing down from China, from November through March and warmer period during the summer ("cooler" is relative, you will not likely need a jacket aside from Hanoi and Halong Bay). See our Vietnam Weather charts below, showing the levels of rain and temperature for north, south, and central Vietnam by month of the year.
Flooding is common and even a bi-annual typhoon a possibility in late July and August in Vietnam: carefully consider travel during this time if your plans do not allow for flexibility of such a weather event. If the typhoon season lasts longer, possibly through November, the most severe storms will occur along the central coast WITH FLOODING in Hue and Hoi An. Typhoons in this region frequently lead to serious crop damage and loss of life (Image: Typhoon Xangsae).
Below are some charts to help you further gauge when to travel. Our scheduled tours are limited to the drier weather period of the year: December through June (although we do arrange custom tours year-round in areas an times that may be dry, the Mekong Delta for example which has year-around warm weather). During December, the weather north of Danang (and the Hai Van Pass) can be cool and rainy. January through March are good months to travel the length of Vietnam (combined with humidity, it is not as cool as the chart below reflects) but can have cold spells and chilly rain. Late March through June are ideal for sunshine throughout the country and has begun Sapa to thaw around the first week of March.
Specifically for Sapa, September through November and March through May are the best weather periods for trekking and bicycling in the Sapa area. Daytime temperatures range from 15-28 C, and night-time temperatures from 18 down to 10 Celsius. Trekking and cycling are possible at other times too, but in the wintertime the weather at over 4,000 feet (1,600m) can be bitterly cold (in the 30s Fahrenheit) with fog and drizzle, and the summer can be rather wet (please ask about our Mai Chau trips southwest of Hanoi if your trip is during these cooler months).
December travel? The rainy weather has already tapered, but the temperatures can be cooler and drizzle persists in Hue. Here are some historic weather records for Hanoi (north), Hue and Hoi An (central), and Saigon (south) Vietnam during the month of December (in Fahrenheit). What is Sapa like in December? Little rain, but lows in the 30-40s°F.
Vietnam Weather December, 2008
Hanoi: Days with rain 2, mean temperature 64.2°F
Hue: Days with rain 14, mean temperature 67.6°F
Hoi An: Days with rain 10, mean temperature 70.5°F
Saigon (Ho Chi Minh): Days with rain 4, mean temperature 77.9°F
Vietnam Weather December, 2009
Hanoi: Days with rain 0, mean temperature 67.3°F
Hue: Days with rain 11, mean temperature 70.5°F
Hoi An: Days with rain 5, mean temperature 73.4°F
Saigon (Ho Chi Minh): Days with rain 2, mean temperature 79.3°F
Vietnam Weather December, 2010
Hanoi: Days with rain 1, mean temperature 66.2°F
Hue: Days with rain 6, mean temperature 72.3°F
Hoi An: Days with rain 4, mean temperature 72.3°F
Saigon (Ho Chi Minh): Days with rain 4, mean temperature 78.6°F
Vietnam Weather December, 2011
Hanoi: Days with rain 2, mean temperature 63°F
Hue: Days with rain 19, mean temperature 66.7°F
Hoi An: Days with rain 15, mean temperature 69.0°F
Saigon (Ho Chi Minh): Days with rain 2, mean temperature 78.4°F
Current Vietnam Weather Conditions
Show me the data?
A periodic typhoon or storm can lead to misleading numbers. For example, one storm in March 2009 lead to almost all rain for the month falling on one day on the central coast. This is very typical in Vietnam! You may have week of sunshine, then torrential downpour for one or two days. To provide a more detailed look, here is actual historical weather data for Hanoi weather patterns for 2008, 2009, 2010:
Hanoi Vietnam Historical Weather for 2008, 2009 & 2010

2008

avg temp°C

total rain mm

avg temp°F

total rain in.

Hanoi days with rain*

Jan

15

27

59

1.1

Feb

13.8

14

57

0.5

Mar

21.4

20

71

0.8

Apr

24.5

121

76

4.8

May

27.2

184

81

7.2

Jun

28.3

212

83

8.4

Jul

29

423

84

16.6

Aug

28.8

279

84

11.0

Sep

28.1

199

83

7.8

Oct

26.5

469

80

18.4

Nov

21

259

70

10.2

Dec

17.9

11

64

0.4

2009

Jan

15.7

5

60

0.2

Feb

22.3

8

72

0.3

Mar

20.8

48

69

1.9

Apr

24.6

74

76

2.9

May

26.9

229

80

9.0

Jun

29.8

242

86

9.5

Jul

29.3

410

85

16.2

Aug

29.8

152

86

6.0

Sep

29

155

84

6.1

Oct

26.4

78

80

3.1

Nov

21.5

1

71

0.0

Dec

19.6

4

67

0.1

2010

Jan

18

80

64

3.2

Feb

20.7

8

69

0.3

Mar

21.7

5

71

0.2

Apr

23.2

56

74

2.2

May

28.3

108

83

4.2

Jun

30.1

176

86

6.9

Jul

30.2

280

86

11.0

Aug

28.1

275

83

10.8

Sep

28.3

153

83

6.0

Oct

25.3

25

78

1.0

Nov

21.5

0.5

71

0.0

Dec

19

12

66

0.5
Discrete Weather Events
A decade-long summary of peak weather events that have disrupted travelers in and to Vietnam by areas affected. Also, check your Vietnam travel dates against our handy risk chart at the bottom.
Typhoons Affecting Hong Kong, Hanoi, Halong Bay 2000-12

Date

Cyclone Name

-

Maria

Wukong

Durian

Utor

Yutu*

Fitow

Koni*

Imbudo*

Krovanh*

Dujuan*

Sanvu

Vicente

Damrey*

Chanchu*

Jelawat

Prapiroon*

Bopha

Pabuk*

Neoguri*

Fengshen*

Kammuri*

Nuri*

Flooding

Molave*

Goni*

Mujigae

Koppu*

Chanthu*

Haima

Nock-ten*

Nesat*

Nalgae*

Vicente*

*
Source: Casualties and Damage Caused by Tropical Cyclones in Hong Kong since 1960, Hong Kong Observatory
Flooding Affecting Hue & Hoi An, Vietnam 2000-2012

Year

Date

Cyclone Name

2000

-

2001

October 18

Rainfall

2002

-

2003

October 20

Rainfall

 

November 16

Rainfall

2004

November 27

Typhoon Muifa

2005

-

2006

August 12

Rainfall

2007

August 8

Tropical cyclone 06W

October 8

Rainfall

November 1

Rainfall

November 7

Rainfall

2008

October 30

Rainfall

2009

September 30

Typhoon Ketsana

2010

October 4

Flooding

2011

November 5

Flooding

2012

TBA

Source: VeloAsia, 2012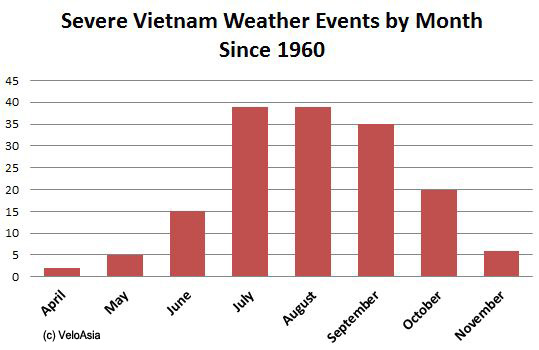 Severe Vietnam Weather Events, by total Number of events, by month: 1960 to 2012
Global warming strikes Vietnam? Update 2011: December through mid-March had unpredictable swings in temperatures and rain in the north and the central coast (with record cold spells).
Note: During some months below, the Vietnam weather charts below may look like heavy rainfall, but in some places such as Hue or Hanoi, this does not inhibit on and off-bike sightseeing.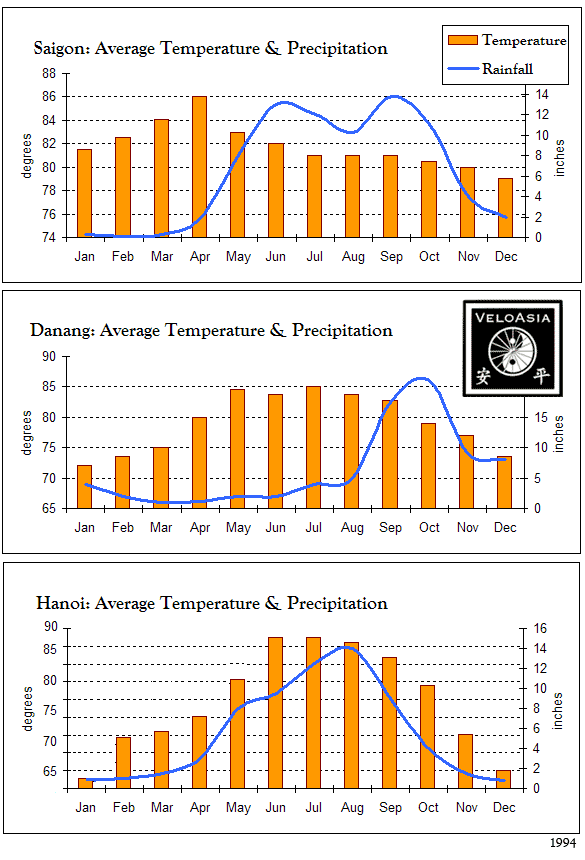 When to go

Jan

Feb

Mar

Apr

May

Jun

Jul

Aug

Sep

Oct

Nov

Dec

NORTH

Hanoi

Halong Bay

Sapa

CENTRAL

Hue

Danang

SOUTH

Nha Trang

Saigon

Can Tho

Phu Quoc
Vietnam Weather Data 2010 (Number of Days with Rain by Month) Blue = Heaviest Rains

When to go

Jan

Feb

Mar

Apr

May

Jun

Jul

Aug

Sep

Oct

Nov

Dec

NORTH

Hanoi

7

2

2

12

7

7

10

14

9

5

0

4

CENTRAL

Hue

11

5

7

2

4

9

11

16

9

21

19

10

Danang

7

0

2

1

2

7

6

11

11

19

18

5

SOUTH

Nha Trang

5

0

3

4

2

1

4

5

7

12

13

6

Saigon

2

0

2

1

2

10

13

13

9

13

14

4

Phu Quoc

2

0

4

4

10

13

12

12

11

16

12

4
Place

Rainy Season

Dry Season

Annual Rainfall (inches)

High Temp

Low Temp

Humidity (%)

Hanoi
May-Oct
Nov-Apr

66

June: 91
Jan: 57

83

Halong Bay
July-Aug
Nov-Apr

79

July: 89
Jan: 56

82

Dien Bien Phu
Apr-Sep
Oct-Mar

62

May: 90
Jan: 52

84

Sapa
Mar-Nov
Dec-Feb

109

August: 74
Jan: 43

87

Hue
Jul-Jan
Feb-Jun

114

August: 94
Jan: 63

88

Danang
Jul-Jan
Feb-Jun

78

June: 94
Jan: 66

83

Qui Nhon
Sep-Dec
Jan-Aug

65

August: 94
Jan: 69

81

Pleiku
May-Oct
Nov-Apr

106

April: 87
Jan: 57

85

Dalat
Apr-Nov
Dec-Mar

72

April: 80
Feb: 50

84

Nha Trang
Sep-Dec
Jan-Aug

45

August: 92
Jan: 69

82

Saigon
May-Oct
Nov-Apr

78

April: 95
Jan: 70

82

Can Tho
May-Oct
Nov-Apr

61

April: 93
Jan: 71

82

Phu Quoc
June-July
Nov-May

113

June: 93

Jan: 67

81

Click on city for current weather in Vietnam, by city (Yahoo Weather)