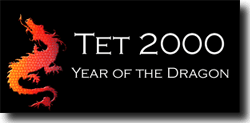 Celebrating The Year of the Dragon
by Tre O'Neil
Dalat On the way from Nha Trang to Dalat in the middle, we stopped at a place called Phan Rhang and saw the Cham Towers. Phan Rhang didn't look much like a city or a village or a town; just a dry land with nothing on it. But on the other side from the Cham Toweres you could see the town of Phan Rhang. It was no dry land; it was a good view. Also fro the Cham Towers, you could see the old Phan Rhang airport. You could also see some MG's sitting on the runway. There was a helicopter sitting on the Runway. The Americans had built that airport. Also on the way to Dalat, I bought another plastic air-filled soccer ball. When we got to Dalat, I played 'soccis' with it.
The very, very exciting thing about the Dalat Hotel I was staying in, was that it had video games!!!!! And there was no charge to play the video games. Dalat City was very beautiful. It had a lot of French influence. In Dalat we got to see a monk that painted! Next we saw a place called 'The Crazy House'. And boy, was that a crazy hotel! It was this huge place with mazes and mazes of stairs and tree stumps. You even could climb up a giraffe's neck to get to somebody's room. Nobody stayed in the hotel because it could be too annoying and too uncomfortable. Tourists would come in at 7am. The guy who owned it made money by charging people to come and see it.
Another day, another day I keep getting a writer's block and forgetting what I was about to say. Well another day, we went to the Valley of Love. There was lots of merchandise to buy. On the way out of the Valley of Love, I bought snake wine. It's wine with a snake inside of it. It tastes very yucky but Vietnamese people believe that it makes you very strong and brave and all of those things.
Dalat is a French-built City that was created to escape the heat of Saigon. It was also a big place for hunting wild game. There are pine forests all over and it is very beautiful.

Fun at the Pool
Here I am going really fast down the slide at the pool. The slide was metal so you could pick up a lot of speed. It was refreshing in the heat of the day.
Nha Trang
Here is a photo of what Nha Trang looks like, on a sunny day of course!
Big Buddha
This buddha statue at the Long Song Pagoda can be seen almost anywhere in town not only because it is on the highest hill, but it stands about 100 feet high.
Foosball!!!
There are foosball tables all along the road and I got to play with some kids.
Mr. Sinh
Our guide, Mr. Sinh, knows eveything about Vietnam. He travels all over the country all the time.
Trick or Treat
Mr. Fulmer was on our bike trip and was 80 years old! He knew a lot of tricks and is hsowing me a math one here on the bus.