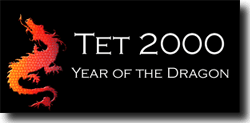 Tet - The Year of the Dragon
January 31 to February 14, 2000 (16 Days/15 nights)
Touring or Mountain Bikes (mostly paved roads)
Maximum Group size: 12
Click here for: PHOTOS, ROUTE, or to SIGN UP
A comprehensive portrait of Vietnam, this tour highlights the vigorous culture and history of a nation rife with contrasts, but takes place during the unique cultural festivities in Vietnam during Tét - the Vietnamese Lunar New Year. This holiday period is an eagerly anticipated weeklong celebration much like the fourth of July, Christmas and Thanksgiving all rolled into one. Tét is a time for prayer, ritual, feasting and good times. The transition from winter into spring is also a time for settling old accounts, of spiritual renewal, and when new crops are planted in anticipation of an ever-greater harvest. All over Vietnam, traffic disappears as families stay home to prepare special gifts and foods as bright sprigs of the yellow-blossomed Mai tree are displayed everywhere. It is a wonderful time to travel in Vietnam, not only for the empty roads and great weather, but also the joyous mood and celebratory atmosphere. Our itinerary centers on Tét festivities along the way.
Witness the rush of modernization in Saigon and life in agrarian villages where little has changed in the last thousand years. Discover ancient wonder in Cham temple ruins, Buddhist pagodas and ancestor worship at the center of Vietnam's spiritual element. We will encounter the legacy of French rule in the elegant colonial architecture and study the ancient Chinese influence on customs and food as well as the profound effect of the American occupation on Vietnamese culture, for better or worse. Ancient traditions, foreign influences and dynamic society make Vietnam a fascinating destination.
Along the way we will observe the distinct personalities of Vietnam's provinces, spending quality time in the lush Central Highlands, pristine coastal regions and the pastoral countryside where vast stretches of rice paddies meet a jungle foliage that is a hundred shades of green. In addition to stunning landscapes, bicycling will provide access to Vietnam's greatest treasure - its people. Their warm greetings and smiles come naturally and their optimism and enduring spirit are inspiring. The Vietnamese are happy to have visitors again, especially Americans, who are now a novelty, yet historically familiar.
Our route travels the length of Vietnam, from the stoic, socialistic capital of Vietnam, Hanoi, through the unique provinces on the way south to the hyper-capitalistic Saigon. The graceful, tree-lined boulevards of Hanoi recall the days when it was the French capital of Indochine, yet it where statues of Lenin make their last stand. Freshly cooked meals and restful nights in charming colonial hotels will restore tired legs. Swimming, snorkeling, and exploration by foot round out our itinerary. As many relatives return home to Asia for the Lunar New Year, it is imperative to reserve your air travel as soon as possible - either with your own agent or with assistance from us.
NOTE: If you've come this far, you may not want to miss the prize of southeast Asia - the stunning temples of Angkor in neighboring Cambodia. A five day, non-cycling tour of Angkor may be added before this tour begins. There is also a post-tour extension to Sapa - a hillstation high on the border of China populated by hilltribes - following the Tét tour. There is a 10% discount if you sign up for both tour extensions - over $500 off. Please call for more details.
January 30, Arrive Hanoi
Arrive in Hanoi - the former French capital of Indochina and the political and cultural center of Vietnam. Early evening stroll to soak up Hanoi's stoic atmosphere along Hoan Kiem Lake and ancient, yet lively Old Quarter. Orientation dinner featuring curried fish, shrimp rolls, crab cakes and flan. A traditional, delightful water puppet performance concludes our first day. [photo]
January 31, Hanoi City Tour
City tour of Hanoi with visits to the Revolutionary Museum, Temple of Literature, Ho Chi Minh Mausoleum & Museum, and Museum of Fine Arts. Afternoon exploring of Hanoi's silk, art and other specialty shops. For lunch, dinner and Kem (ice cream) we return once again to the idylic Hoan Kiem Lake in the heart of Hanoi [photo]. Overnight transfer by rail to Hue on the Reunification Express.
February 1, Hanoi to Hue
Morning arrival in the ancient Imperial Capital of Vietnam on the misty Perfume River - one of the country's most pleasant cities. After breakfast we will test our bikes and then cycle out along the tranquil Perfume River and through the high-walled Imperial Citadel, to the peaceful Thien Mu Pagoda [photo], and then into the tranquil countryside and the Imperial Royal Tombs. Evening meal includes local delicacies followed ice cream on the riverfront.
February 2, Hue
Exploration of Hue's giant markets and riverfront area. Afternoon free or cycling through Hue's countryside.
February 3, Hue to Hoi An
Our "long group" will begin riding early in the morning while the rest of us will depart for the top of the Hai Van Pass [photo] by bus shortly after breakfast. Our route passes by rural villages [photo] and picturesque Lang Co Lagoon [photo], an ascent of the pass with stunning views of the coast and a thrilling 5-mile descent from the top to the green rice fields around Danang, which we will skirt by on our way to Hoi An. Afternoon arrival at the tranquil Hoi An Hotel [photo].
February 4, Hoi An
City tour of Hoi An - an ancient Japanese port of trade [photo]. Much of Hoi An's rare wooden architecture remains in this small, pleasant town. We will explore the elegant pagodas, bustling riverfront marketplace [photo1] [photo2] and distinctive cuisine. Cycling to Cua Dai Beach on the South China Sea for a clam bake, Vietnamese cooking lessons in town featuring local specialties by one of Vietnam's most talented chefs, or free time on your own for a boat excursion on the river [photo]. Tet fireworks in the evening.
February 5, Hoi An
New Year's Day! We soak up the celebratory atmosphere and will spend most of the day exploring the festivities in Hoi An. Special Tet dinner.
February 6, Hoi An to My Lai/Quang Ngai
Depart early along the coast and past scenic rice villages [photo]. Lunch near a "secret" Cham sight. Regroup at Chu Lai, a former American military base, and board our buses for the drive into the My Lai Memorial [photo]. Overnight just south in Quang Ngai, a large nondescript port city.
February 7, Quang Ngai to Qui Nhon
Early coastal riding followed by lunch at the golden sands of Sa Huynh beach - which is also a nice place for a dip in the cooling South China Sea. Afternoon cycling past rural rice villages canopied by swaying coconut palms.Arrive at the Seagull hotel which faces a beautiful beachfront [photo].
February 8, Qui Nhon to Nha Trang
Our ride from Qui Nhon to Nha Trang covers some of Vietnam's most scenic coastline, featuring deserted blue lagoons and stone promitories overlooking the waters below. Fishing villages dot the coast here, thier bays filled with brightly colored boats [photo]. Not many travelers here, so lots of attention can be expected [photo]. Lunch at scenic Dai Lunh Beach [photo]. Arrive at the historical Vien Dong Hotel [photo].
February 9, Nha Trang
Vietnam's finest oceanfront city [photo]. Half-day boat excursion to nearby islands and a marine reserve. Snorkeling and swimming over flowering coral reefs in warm, clear water [photo], followed by sunbathing and grilled seafood lunch. Dinner featuring shrimp spring rolls, fried squid with pineapples, steamed crab, fresh fishand other seafood delicacies [photo].
February 10, Nha Trang
Cycling tour of Nha Trang, including Lon Song Pagoda [photo] and Po Nagar Cham ruins [photo]. Evening free to walk along the beach, have a massage or swim in the warm surf.
February 11, Nha Trang to Dalat
Morning bus shuttle past historic Cam Ranh Bay to Phan Rang - location of a large a Cham ruin, Thap Cham, and most of the remaining, original inhabitants of Vietnam - the Chams [photo]. Cycling from Thap Cham along the flat to the six-mile climb up Ngoan Muc Pass [photo] (which some of us will do in the bus) into the beautiful pine forests of the Central Highlands around Dalat. Small villages and strawberry, carrot and other crops line the empty road passing into Dalat. Cycling "escorts" are common here [photo].
February 12, Dalat
Dalat - a beautiful colonial hill-station with cooler weather and some very interesting and sites, such as Vien Thuc's Pagoda [photo], Bao Dai Palace and the Valley of Love. The gem of Vietnam, Dalat was where the French came for relief from the heat of Saigon - hundreds of well-preserved colonial villas cover the hills [photo]. Also a center for exotic game hunting - even Teddy Roosevelt had a villa here. Ride to see the Valley of Love and other local attractions including waterfalls and lakes. Afternoon city tour of the central marketplace, Dalat Cathedral, the artist community and numerous cafes. Vietnamese language lessons with the charming Miss Phouc. [photo]
February 13, Dalat to Bao Loc/Saigon
Our morning begins with a twisting six-mile descent from Dalat through pine forests to the rolling and gradually falling road to Saigon [photo]. We'll pass by numerous coffee, tea, banana and rubber plantations planted in the rich, red earth that marks the Central Highlands as the place where Vietnam's finest tea fields and crops unique to Vietnam, like strawberries grow abundantly. We'll also pass by the ubiquitous churches in this unique and predominately Catholic area of Vietnam. Just outseide of Saigon, the rubber trees originally planted by the French Colonialists are still harvested [photo].
February 14, Saigon
Saigon. City tour of the vibrant, untouristed Cholon's Bin Tay market, numerous pagodas, the Saigon river front and several historical sites, including the Presidential Palace and the Revolutionary Museum. Afternoon free or sightseeing and shopping with guide. Bicycle packing, post-tour or departure arrangements. Last chance to buy postcards - available from the many younger street vendors [photo] or take a ride in a cyclo [photo]. Farewell dinner.
February 15, Depart Saigon
Transfer to Tan Son Nhat Airport.
LANDCOST: US$2,580 (double occupancy). Click here for details of what is and what is not included.
AIRLINE: From VeloAsia, approximately US$770 - 990 RT from the west coast. Please call for specific pricing.
NOTE: Vietnam reaches far beyond the historical and scenic sites we offer on this itinerary and we encourage you to explore on your own at anytime during the tour. Day trips with the group and riding days are always optional. Additionally, we modify the itinerary to keep every tour unique and spontaneous.
GUIDES: Nguyen Van Minh was born and raised in Saigon and has traveled extensively throughout Vietnam for over 20 years. Nguyen Van Dung has driven the roads of Vietnam, Laos and Cambodia since 1983. Patrick Morris has lived between Saigon and San Francisco since 1992 and has cycled over 6,000 miles in Vietnam. Together they have led over a dozen VeloAsia cycling tours in Vietnam. Willard Ford races for and manages the L'equipe Cheval Racing Team and has over 15 year's worldwide touring and racing experience.
Can we provide you with more information on our company or our tours?
Send email to VeloAsia, or call our office in San Francisco at (415) 680-3788 .