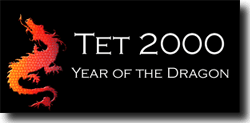 Celebrating The Year of the Dragon
by Tre O'Neil
Orientation
Below is the route we took through Vietnam. Click on links below or to the right to follow our route!
Itinerary (click below or at right)
January 30: Hanoi City Tour
January 31: Hanoi
February 1: Hanoi to Hue
February 2: Hue
February 3: Hue to Hoi An
February 4 & 5 Hoi An
February 6: Hoi An to Quang Ngai
February 7: Quang Ngai to Quin Hon
February 8: Quin Hon to Nha Trang
February 9 & 10: Nha Trang
February 11: Nha Trang to Dalat
February 12: Dalat
February 13: Dalat to Bao Loc/Saigon
February 14: Saigon
February 15: Saigon to Hong Kong
February 16: Hong Kong to USA
Hi! My name is Tre O'Neill and this is the story of my two week trip through Vietnam. My trip was during the lunar New Year which is the biggest holiday in Vietnam.

Hanoi
The cool, cultural, political and former Capitol of French Colonial Indochine. I met these two nice soldiersoutside the Ho Chi Minh Mausoleum.
Hue
The Imperial Capital of Vietnam where Emperors built majestic tombs and a citadel on the banks of the Perfume River. It was wet and our bikes late so we rented some local one-speeds.
Hoi An
An ancient Japanese trading port, Hoi An retains unique wooden architecture, Chinese temples and excellent cuisine that makes it everyones favorite stop.
Nha Trang
The "Waikiki of Vietnam." What to do in a beach town with no sun? We headed off on bike to explore the wide boulevards, ice cream shops and back alleys.
Dalat
A former French Hillstation, Dalat lies high up in the central highlands. The high altitude and clear skies made for great cycling around the lakes, villas and countryside of this unique city.
Saigon (Ho Chi Minh City)