"The Vietnamese are a skinny people obsessed with food" — Anthony Bourdain
Any traveler knows the best to get to the heart of a place is to experience the culinary delights it has to offer. Indeed, anyone who has traveled to Vietnam will mention three things that stood out most: the people, the scenery, and the food. This trip emphasizes all of these with sightseeing from the vantage point of the saddle while creating a great excuse to eat!
Iron Chef Champion and Grace Restaurant impresario Neal Fraser has lead three previous editions of this unique tour, fine tuning the trip each time, including our must-visit restaurant list as well as culinary activities along the way. Join us this coming April for another edition of our unprecedented culinary cycling adventure, pedaling through the scenic country roads along Vietnam's central and southern coast and into the central highlands for — as many of our past traveler's have said — the experience of a lifetime.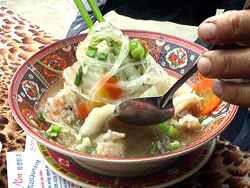 The cycling on this trip may make feel less guilty eating some of the Vietnam's finest food from north to south, but we'll be the first to tell you that you may risk putting on a few pounds anyway, despite all of the riding.* Vietnam features some of the most delicious and innovative cuisine in the world, and our local culinary guides and guest chefs will reveal the hidden delights of Vietnamese food.
Indeed, there are few culinary adventures on par with Vietnam. This trip will highlight the distinctive cuisines of each region with a mix of activities, including hands-on cooking, kitchen and market visits while canvasing the best of Vietnam from Hanoi to Saigon, including thousand year-old Old Quarter in Hanoi, to sublime cycling through the Imperial Capital, Hue, ancient port town, Hoi An, and south along Vietnam's scenic coastline to the country's premier beach town, Nha Trang before climbing into the Central Highlands to enjoy the high-mountain views of Dalat, a former French-colonial hillstation. After almost two weeks in the saddle and at the table, we'll take in big city Saigon for a final farewell bash.
*Note that this tour is suitable for all levels of ability (and even non-cycling spouses) as well as those of higher levels of fitness who wish to ride a lot.
About Neal Fraser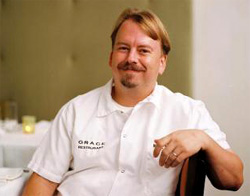 A Culinary Institute of America graduate who has worked with Thomas Keller at the Checker's Hotel in Los Angeles, David Burke at the Park Avenue Café in New York, and Wolfgang Puck, Neal now serves as Partner and Executive Chef at the trend-setting Grace Restaurant serving his New American cuisine in an atmosphere perfectly designed to complement the ambitious flavors of one of Los Angeles' most revolutionary culinary talents.
As the tour title conveys, Neal is also an Iron Chef Champion, defeating Cat Cora in a televised pork cook-off. He was also published in the Wall Street Journal for his mother's day pancakes. Neal's cycling biography includes Southern California District Road Race Champion and he has also cycled Vietnam on three other trips.

QUESTIONS? Call us in San Francisco at (415) 680-3788 or Email us.
We are happy to answer questions or inquiries.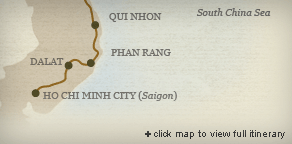 Tour Details
Road Bicycling with Support
21 Days & Nights
Leisurely to Moderate Cycling
90% Good Condition Paved Roads
Maximum Group Size: 12 persons
Staff size: 5-6 with 2 support vehicles
Landcost: $4,860 (Luxury Accommodation)
Single Supplement: $875 (Standard) 1,280


Tour Dates
June, 2009 (Our 1st Edition trip)
November 10 to 22, 2010
February 12 to 27, 2011
April 1 to 12, 2012
April 8 to 19, 2013


12-Day Itinerary
Day 1 Hanoi
Day 2 Hanoi to Hue
Day 3 Hue
Day 4 Hue to Hoi An
Day 5 Hoi An
Day 6 Hoi An to Qui Nhon
Day 7 Qui Nhon to Nha Trang
Day 8: Nha Trang
Day 9 Nha Trang to Dalat
Day 10 Dalat
Day 11 Dalat to Saigon
Day 12 Depart Vietnam
Pre- & Post-Tour Travel Options
Halong Bay Kayaking
The Mekong Delta
Grand Temples of Angkor
Luang Prabang, Laos
Phu Quoc Island Paradise
Luxury Hotel Upgrade

Hanoi: Sofitel Metropole
Hue: La Residence)
Hoi An: Life Resort or Victoria (Nam Hai upgrade)

Qui Nhon: Life Resort
Nha Trang: Ana Mandara
Dalat: Sofitel Dalat Palace
Saigon: Caravelle