Tel: Tel:
Fax: (206) 350-4208
Family & Friends
Private Tours
Introduction to Halong Bay
Halong Bay was declared a UNESCO World Heritage Site in 1998. The thousands of limestone peaks create a natural barrier to the wind-blown waters of the South China Sea and a a karst wonderland that was a favorite hiding place for pirates (and the James Bond villain in Man with the Golden Gun). These calm waters are wonderfully suited for kayaking and the limestone formations are a fantasy land of exploration. Large caves — which we will explore on foot and kayak — also served as hidden bunkers for pirates, revolutionaries, and bandits. Unlike Thailand, Halong Bay in Vietnam has yet to be discovered (indeed, overrun) and there are few tourist boats in the area. It remains a tranquil setting for easy exploration from sea level.
Our Kayak Tour featured in Nat'l Geographic 2003
Orientation
If you want an idea of how beautiful Halong Bay is, rent a copy of the French film Indochine. Now imagine kayaking it's calm, emerald waters through caves into hidden lakes and white-sand beach coves-your small kayak gliding smoothly beneath the towering limestone peaks.
As Michael Buckley notes "The romantic setting of rugged island peaks and bays dotted with sailing junks has inspired a whole genre of Vietnamese painting."
The scale and setting will take your breath away. Click here to read more in Buckley's article on this magical place or here for his review of his trip.
Kayaking
Your kayak enables up-close access, through karst into hidden lagoons where no boat can go. We are the only operator to have imported kayaks: the Seaward Navigator one and tandem models are perfect for beginners and for more experienced kayakers. You can read a travelogue featuring these kayaks here. Please note the quality of tours varies dramatically on Halong Bay, irrespective of cost (in a recent Conde Naste article, a travel writer lamented about the sour experience of their "high-end" trip). Our trips are of the highest quality with finest boats, very small groups, top equipment, most-experienced guides, fabulous cuisine, and veering off to parts of the bay away from the crowds.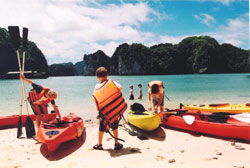 Family Fun
Note: this trip is perfect and our most popular for families with children of all ages. Consider booking a private boat for a family outing on Halong Bay. Special meals and activities can be arranged, such as island hikes, beach camping, home visits. Our Halong Bay is also popular with honeymooners.
Consider combining our kayak trip with two other of trips that cover other highlights of the region; Cycling the Mekong Delta (also a wonderful family trip) and the grand Khmer temples at Angkor in neighboring Cambodia.