Sapa: The Tonkinese Alps
Qui Ho Valley
s tourism rapidly expands in Vietnam's more familiar cities along the coast, some traveler's are venturing to more remote areas with a fresher atmosphere. One destination growing in popularity, and soon to be overwhelmed by backpackers, is Sapa. Sapa is a small, tranquil town that lies a mile high on the Hoang Lien Son mountain range along the Chinese border in northwest Vietnam. Nicknamed "the Tonkinese Alps" the area features vaulting rice terraces, lush vegetation and the highest peak in Vietnam, Fansipan, which towers over the village, swirled in fog from across a deep valley. A look off towards China provides breathtaking views of no less than seven mountain ranges.
The town was located by Jesuit missionaries in 1918, and, attracted by the cool and temperate climate, western arrivals soon transformed Sapa into a pleasant hill station. Along with a church, they constructed hotels, tennis courts, an airport, hydro-electric station and summer villas. Most were abandoned or destroyed during the subsequent war for independence with the French and a border skirmish with the Chinese, but some of the colonial influence remains.
Although the name Sapa means "sand village" in Chinese and the town is located within Vietnam, it is home to a wealth of colorful, diverse hilltribes who have steadfastly resisted integration into Vietnamese society and modern life. In fact, the hill tribes, including the Hmong, the Dao, and the Dai, comprise the majority of inhabitants in the area, outnumbering the Vietnamese who have traditionally preferred the warmer climate of the low lands. Indeed, Sapa has been known to get a light sprinkling of snow in the winter.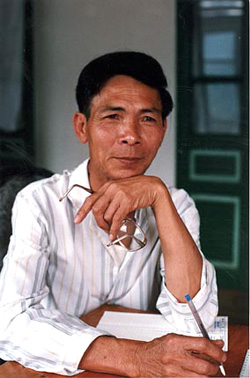 Dang Trung
The hill tribes are the real attraction of the area, wearing traditional dress of hand woven and dyed clothes and silver jewelry (that make the Vietnamese seem like Westerners). They are shy and are wary of foreigners. Usually, only the Hmongs will socialize or let you take a picture. Sapa's most notable site is its central market - a main gathering place for hilltribes from the surrounding villages. Hill tribes congregate there not only to sell handicrafts, jewelry, orchids, mushrooms, and honey, but to also cultivate relations with other groups, play games, and perhaps find a sweetheart. On some weekend evenings, singing courtships and marriages take place.
Diversions include hiking to nearby villages where it is possible to stay overnight, Silver Falls several kilometers north and a difficult, three-day scaling of Fansipan itself.
A scenic train ride along the Red River takes all day to reach Lao Cai on the Chinese border. From there it is a short taxi ride straight up a dramatic road to Sapa, eighteen miles away (or by bicycle if you are joining us). Sapa is a comfortable base for exploring the area.
Highlights include Vietnam's highest paved pass, a diversity of hilltribe villages, and exploration of Sapa's mountain wonders and tranquil surroundings. Cold weather and early morning fog blowing off Qui Ho Lake high above Sapa can be expected between December and February. Preferable weather in Sapa is in March and April when the coastal areas are sweltering. Accommodations are at a charming colonial style hotel overlooking the breadth of Sapa's mountain range, terraced rice fields, and deep valley. Tourism has yet to hit Sapa, but during a visit last July the road from Lao Cai was being properly paved, and a small but steady stream of backpackers were beginning to roll in.
See our Sapa bicycle tour options or all of our Vietnam bicycle tours.
Dang Trung is the proprietor of the popular Auberge of his name in Sapa. Arriving exhausted on a cold, wet night during the Winter of 1992 after bicycling from Lao Cai into a pitch-black Sapa, what few little hotels existed, were all full. An awakened Dang Trung ushered me into his kitchen, stoked a fire and cooked me a hearty meal, then laid a thick mat of bedding over the table I'd just eaten on and tucked me in for the night. In the morning we shared breakfast. Favorite quote (after asked why he spoke such good English and French): "That is history, let us enjoy the present." A kind, gracious man who became a good friend. Patrick Morris, 1993