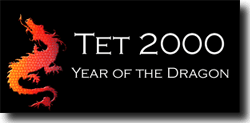 Celebrating The Year of the Dragon
by Tre O'Neil
Feb 6: Hoi An to Quang Ngai On the Way from Hoi An to Quang Ngai, Sinh, our tour guide, showed me a game involving what I call a Vietnamese hacky sack. A Vietnamese hacky sack looks like this: (hand-drawn picture). How you play with it is you hit it with your hands, feet and head to keep it going. The object is to not let if hit the ground. It can be one player or two players.
At Quang Ngai, we went to My Lai where the US had executed 500 innocent villagers. It was very, very bad. There were lots of graveyards and statues of people being killed. The actual village is not there anymore. Also at Quang Ngai, I was obsessed with the hacky sack game. I also did tooth pick art that night. Toothpick art is pictures made out of toothpicks. Also at Quang Ngai, we had to change rooms because our room was so, so smelly.
Feb 8: At Quin Hon, the hotel had a tennis court but not a net for the tennis court. And it was windy. I went to a carnival there. There was a ball pit. We had a huge fight, girls versus boys. Boys won.
Feb 9-10 Nha Trang was the funnest place yet. It had billiards, pool, ping pong, tennis, a pool with a super waterslide and a beach. But the beach had a lot of trash on it and in the ocean. I played so, so, so, so many games in Nha Trang. It was so, so, so fun. My usual schedule in Nha Trang is that I play tennis to get myself all sweaty, then I jump in the pool to cool myself off; then play either ping pong or badminton; then jump in the pool for a tiny bit then go back to the room.
Rayfiel, who is someone in our group, told me there was a bookstore right in back of the hotel. Mom and I went to look for the bookstore to get me a book. We looked and looked and looked. We didn't find a bookstore, but Mom found something she enjoyed - a wine shop. My Mom bought two bottles of Vietnamese wine and the guy gave me a whole sackful of chocolates for free… I repeat: a whole sack full.
That night on the way to Banana Split Café, which is a very famous café in Nha Trang (it also has a duplicate next door that hogs all the customers - we went to the original one), my Mom bought another bottle of wine and we enjoyed the wine at Banana Split Café, which had American pizza.
The next night we took a cyclo to dinner. The cyclo driver had been a military policeman in the South Vietnamese Army (ARVN) that was on the side of the Americans. The North Vietnamese caught him after the war and put him in a re-education camp (concentration camp). He spent two years there but since he was working hard they let him go.
Nhatrang has been called the "Waikiki of Vietnam." It's a fun beach town with a carnival, swimming pools and great weather. The food is also really good!

Fun at the Pool
Here I am going really fast down the slide at the pool. The slide was metal so you could pick up a lot of speed.
Nha Trang
Here is a photo of what Nha Trang looks like, on a sunny day of course!
Big Buddha
This buddha statue at the Long Song Pagoda can be seen almost anywhere in town not only because it is on the highest hill, but it stands about 100 feet high.
Foosball!!!
There are foosball tables all along the road and I got to play with some kids.
Mr. Sinh
Our guide, Mr. Sinh, knows eveything about Vietnam. He travels all over the country all the time.
Trick or Treat
Mr. Fulmer was on our bike trip and was 80 years old! He knew a lot of tricks and is hsowing me a math one here on the bus.