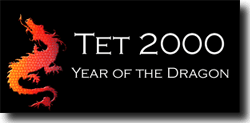 Celebrating The Year of the Dragon
by Tre O'Neil
Diary
I read the whole way on the airplane to Hue. By the time our bikes were ready to ride, I finished my book. Then we went for our first ride! A lot of people noticed my detachable tandem. They've never seen something ike it before. I went to the citadel, an old war fort used by emperors. In the citadel theres a place called the forbidden city. Only the emperor and his wifes have access to it. Emperor can have more than one wife! The mandaring servants also have access to the forbidden city.
Next we rode to a pagoda for Buddah. There were monks and they were chanting. It was fun to hear them chanting. This ride was fun except for the very cold rainy weather and the mud. Then, I hit the shower.
The next day, I went and saw tombs of kings. Nobody knows where the real tomb is. The person who brought the kings treasures to his tomb is killed. I rode sixty miles - six hours including half of the biggest pass (all uphill to pass from mountain to mountain) in Viet Nam. It was so, so, so, so, so, so, so, so hard. The hotel I'm at has a pool table, a billiard table, and a tennis court, a volleyball court, and a pool with a water slide! I bought a plastic air filled soccer ball and played with it on the tennis court.
Hue
Set gracefully on the Perfume River, Hue is the ancient, Imperial Capitol of Vietnam where the Emperors ruled and were subsequently buried in majestic tombs. The city's tranquility and beautiful natural surroundings attract foreign and Vietnamese travelers.
Kids
There are kids everywhere in Vietnam! They seem to always be playing and as you can see, like to have their picture taken.
The Perfume River
A long time ago, fragrant plants grew along this river and the people called it the Perfume River. The river runs through the middle of Hue.
Thien Mu Pagoda
This Buddhist Pagoda overlooks the Perfume River and is a very peaceful place. Here is my mom, Jenny!
Khai Dinh
Khai Dinh was one of the last emperors of Vietnam. This tomb was built in the countryside of Hue in the 1920s.
Tu Duc Tomb
Here is our whole group at the Tu Duc Royal Tomb just outside of Hue. It was drizzling and we wore our rain jackets.
A crash!
My uncle David hit a dog in the road and fell down. He was sore but alright, but his bike wasn't and he had to get a ride with this cyclo driver back to the hotel.