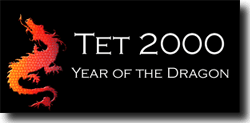 Celebrating The Year of the Dragon
by Tre O'Neil
I went to a restaurant. Next door I saw a box that I really liked and I need something to carry all the stuff I buy. Besides, the day after tomorrow I'm going to Marble Mountain.
The next day, I went on a tour of the Old Town of Hoi An. We saw a bridge that on one side it was a Japanese street. The other side was a Chinese street. In the Old Town, we went into a house. A lady was selling stuff. I bought a marble egg with a marble stand. Some of the significant things about the house were: the man living in it was the seventh generation living in that house. His grandson was living in the house and he was the ninth generation living in the house. In the house, the beams were Japanese style, Chinese style and Vietnamese style. After the tour my feet were hurting me. On the tour, I bought my basket that I saw last night. Also at the restaurant last night, somebody stole my book!
The day after the city tour, I went to Marble Mountain. It had a big, big Buddha on it. There were lots of people selling marble. On the street to Marble Mountain, I bought 2 marble balls and 2 marble stands for each ball. On Marble Mountain, I don't like any body to notice, but I'm afraid of heights so I wouldn't go to the top. I saw a cave with people in it. People used to live there when the was happening but not now. Since it was New Year when you said where you were from, people would say "totally awesome". A cave in Marble Mountain that is now used for praying, used to be used for the VC's that were hiding out. The Americans bombed the cave so it has a natural skylight. The light that comes in through the skylight is filled with smoke and it looks cool. Then we went to China Beach.
This day was also my Mom's Birthday and it was TET! The eve before TET, people gave out money called lucky money. Kids get it every New Year. That's my story about Hoi An.
Hoi An
An ancient Japanese trading port, Hoi An is a small, peaceful town on the South China Sea that retains much of its ancient wooden architecture. Every full moon they turn off all the lights in town and light lanterns. It's also a place for great food!
My Uncle David
And his new hat. The weather became very nice in Hoi An and he decided to also get out his rainbow shirt.
A Tet Birthday!
New Year's Day was also my mom's birthday. Before we left she got balloons signed with everyone's names.
Marble Mountain
From Hoi An we took a day trip to Marble Mountain where Vietnamese craftsmen carve marble statues out of blocks of marble. Here Tim and Sue pose with Uncle Ho's statue.
Street Market
This is part of a street market in Hoi An where you can find many foods for sale -- even fresh ducks. The market was especially busy because it was Tet.
Japanese Covered Bridge
Here is the bridge I was talking about.
Pagoda Boogie
Strangely enough, the sights at this pagoda moved Tim, Tony and Raphiel to start dancing.