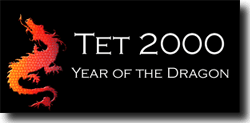 Celebrating The Year of the Dragon
by Tre O'Neil
Diary
Jan. 30 00 I'm in Hanoi every minute outside I har at least 5 honks. Almost everybody rides bicycles here! Stores and Vietnamese homes are shabby but hotels are used to Americans coming and there very clean and fancy. The Vietnamese make rice by drownding the rice paddies knee high!
Jan. 31. 00 Every minute outside I hear at least twenty honks I made two friends! I got to see Ho Chi Minh's body! I went to the old quarter of town there were these small tunnels with doors into a single room each and one family lived in each room. Everybody is getting ready for Tet. One of the things they are buying a kumquat trees they look like little orange trees. They're practically that but they're about 5 times smaller.
Tet is the lunar new year which is the real new year. They also buy peach blossom branches to celebrateTet. Each year Tet is on a different day. This year it is on Feb.5 which is my mom's birthday. I met my 2 friends hen I was going on the tour of ho chi minh (the man) complex. They were following me around and I was too shy. But then when we came to a pagoda, one of my friends was lifting weights so I did it too. Then we had a weight lifting. They speak Vietnamese so I couldn't talk to them and ask them what we were going to play.
[Home] [Next Chapter]