Sapa Cycling and Trekking Adventure | Since 1994!

Sapa is an incredibly picturesque, tranquil village that lies a mile high on the Hoang Lien Son mountain range in Northwest Vietnam along the Chinese border. Although the Sapa means "sand village" in Chinese, there is little sand to be found and Sapa is located within Vietnam, the region home to a wealth of colorful, diverse hill tribes, who have steadfastly resisted integration into Vietnamese society and modern life. In fact, the hill tribes, including the Hmong, the Dao, and the Dai, comprise the majority of inhabitants in the area, outnumbering the Vietnamese (who prefer the warmer low lands and coast).

Sapa's central market is a main gathering place for hill tribes from the surrounding villages. They congregate there not only to sell handicrafts, jewelry, orchids, mushrooms, and honey, but to also cultivate relations with other groups, play games, and perhaps find a sweetheart. On some weekend evenings, singing courtships and marriages take place. We will immerse ourselves in this hill tribe culture while exploring Sapa's beautiful expanse.

Highlights of our Sapa Trip

Hiking and Cycling the Tonkinese Alps
---
Nicknamed "the Tonkinese Alps," this picturesque area features vaulting rice terraces, lush vegetation and the highest peak in Vietnam, Mount Fansipan, which towers over the small town, swirled in fog from across a deep valley. The town was discovered by Jesuit missionaries in 1918. Attracted by the cool and temperate climate, Western arrivals transformed Sapa into a pleasant hill station. Along with a church, they constructed hotels, tennis courts, airport, hydro-electric station and summer villas. Many were abandoned or destroyed during the subsequent war for independence with the French and the 1979 Chinese invasion, but the colonial influence remains.
The Tours
We can organize trips from three to twelve days (our linger tour detailed in link below).A three-day tour originates from Hanoi and is ideal as an extension to our full length tours or Halong Bay, although may be booked separately. A scenic train ride along the Red River will takes you to the Chinese border and into the high mountains and Sapa -- your base for of exploring the area. Highlights include exploration of Sapa's natural wonders and peaceful surroundings. We can expect cool weather and early morning fog blowing off Qui Ho Lake high above Sapa.
The three-day tour is not only the perfect compliment to a visit to North Vietnam, a comfortable overnight train ride from Hanoi, but can be combined with Halong Bay, Luang Prabang, or Angkor all three World Heritage sites are a short trip by plane or car.
Accommodations are at the luxury Victoria Hotel overlooking the breadth of Sapa's mountain range, terraced rice fields, and deep river valley. A local guide will accompany you in Sapa. Two half-day treks are part of the tour.
Weather
September through November and March through May are the best times for trekking and cycling in Sapa. Daytime temperatures are then 15-28 C, night-time temperatures from 18 down to 10 Celsius. Trekking and cycling are possible at other times too, but the wintertime can be rather chilly, and the summer rather wet.
QUESTIONS? Call us in San Francisco at (415) 680-3788 or Email us.
We are happy to answer questions or inquiries.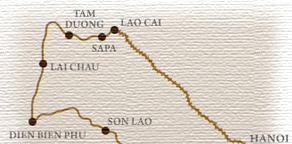 Tour Details
Road Bicycling with Support
3 to 12 Days/Nights
Moderate to Advanced Cycling
90% Good Condition Paved Roads
Private Custom Tour
Staff size: 3-5, 1-2 support vehicles
Landcost: From US$1,280 per person
Single Supplement: $470 (Standard) $680 (Luxury)

Tour Dates :
Year-round (Winter may be cold)
12 Day Itinerary
Day 1: Hanoi
Day 2: Hanoi to Hue
Day 3: Hue
Day 4: Hue to Hoi An
Day 5: Hoi An
Day 6: Hoi An to Qui Nhon
Day 7: Qui Nhon to Nha Trang
Day 8: Nha Trang
Day 9: Nha Trang to Dalat
Day 10: Dalat
Day 11: Dalat to Saigon
Day 12: Depart Vietnam

[VIEW COMPLETE DETAILS]
Readings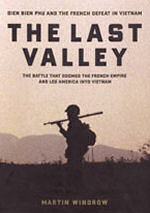 The Last Valley by Martin Windrow. One of our favorites. Engaging, well-written semi-fictional story about the closing of the French chapter on Vietnam, culminating in the battle of Dien Bein Phu.