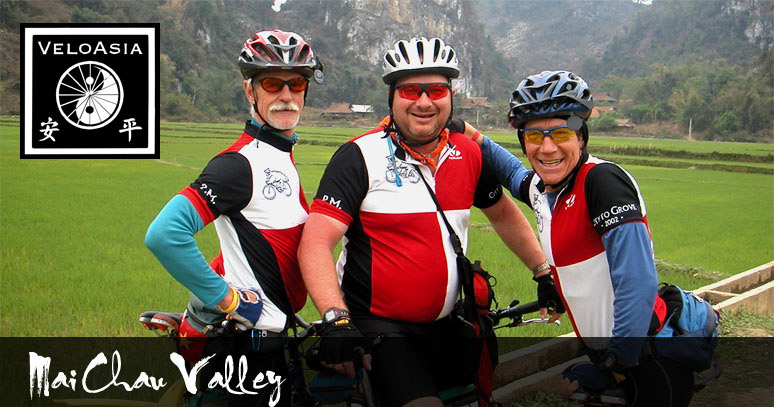 Day 01
15-40km


Hanoi to Mai Chau
Early departure from Hanoi to the beautiful Hoa Binh Province southwest of Hanoi. Along the way, stop in Giang Mo, a small Muong ethnic village not too far from Hanoi but still retaining its native lifestyle and culture. Here enjoy our first hilltribe encounter, exploring the village by foot, enjoying the rural atmosphere of the surrounding rice fields and visiting with hilltribes in the area, taking in their daily routine so different than our own. Afterwards, head on to Mai Chau valley to begin biking through the Thai ethnic villages and surrounding rice and corn farms on dirt paths. In the evening, join in a traditional Thai dance performance and partake of Ruou Can (sweet rice wine) tasting. (B,L,D

Mai Chau Lodge, Mai Chau Town, Tel: (84-18) 386-8959

International SOS, 31 Hai Ba Trung Hoan Kiem District

The Mai Chau Lodge is a real treat, built only a few years ago with stunning views of the surrounding landscape and pleasant pool area for post-ride "R&R."

Day 02
25-39km

Mai Chau to Hang Kia




After breakfast, biking from the hotel on the quiet road to Hoa Binh Reservoir make contact with local people on the way (Muong ethnic people). After arrival at the reservoir, kayaking around the lake, learning more about the history and local lifestyles of this peaceful area. After a picnic lunch, continued biking along Da River, through a thick primitive forest lush with plants and wildlife. After exploring the forest, driving back to Mai Chau for refreshments on the pool before dinner. (B,L,D)

Day 03


Pa Co, Mai Chau to Hanoi




In the morning, drive for about one hour to Pa Co, a village near the Laos border. From here, scenic riding around Pa Co, passing through Blue and Flower H'mong villages, surrounding mountain jungle and apricot and peach orchards. If it is Sunday, visit to the colorful hilltribe market. The Flower H'mong wear especially beautiful traditional clothing here, and we'll ride to Hang Kia village to visit a local home and find out how they make the fanciful brocade for their impressive costumes. After a picnic lunch, continued cycling in the area or returning back to Mai Chau to enjoy the poolside before dinner. Overnight in Mai Chau. (B,L,D)




Most inhabitants of the area are White Thais, known for their warm hospitality. For your second night on our Mai Chau tour, we can arrange a comfortable and unforgettable home stay in a village longhouse, complete with evening dancing.




Need to know
SOS International: You're covered. All of our tours include SOS International emergency evacuation insurance. A global French company, with centers in Hanoi and Saigon, SOS is staffed by foreign medical personnel and 24-hour clinics.

Quality: This cycling trip is the highest quality of those offered to Mai Chau, including imported bicycles, foreign-trained English speaking cycling guides with minimum 5 years experience, mechanical support and routes chosen for maximum enjoyment and sightseeing on the bike.

Thank you for the wonderful tour you organized for us in June. We had an incredible time start to finish, and it truly was the trip of a lifetime. No doubt, we saw places and had experiences that we simply could not have had without VeloAsia and everything you provided for us. Seeing the country from the back of a bike immersed us in a way that we just could not have done otherwise. I know you generally organize trips for more experienced riders, but I would highly recommend a trip like ours to all fellow novices, seeing the country the way we did is simply unparalleled.

More than that, our guides--Lam and Phuc--made our trip incomparably better. From taking us to the best local cuisine to their patience with our sometimes limited cycling skills, the entire trip was better for having them along with us. We would highly recommend both guides. Also both drivers, Mr. T and Tien were always there with all of the support we needed.

Thank you for doing such an excellent job organizing the tour for us - we will highly recommend Veloasia in the future."

~ Reid & Whitney Miller

* Short and Long ride options, in kilometers

QUESTIONS? Call us in San Francisco at or Email us.
We are happy to answer questions or inquiries.