Lisa's Iron Chef Blog November, 2007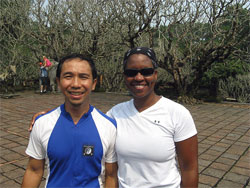 At Tu Duc's Tomb
Mark Twain said, "Travel is fatal to prejudice, bigotry and narrow-mindedness…"
This quote is very relevant right now. Traveling here has reminded me not to make uninformed or media-based assumptions and judgments about other cultures. The majority of my perceptions and impressions about Vietnam have been shattered. Vietnam is great and coming here is an incredible learning experience. I am blown away by the hospitality and warmth of the Vietnamese in general but specifically, toward Americans.
A few things about Vietnam:
1. It is considered the poorest Asian country, they have the highest literacy rate among all Asian countries.
2. Over 60% of the population is less than 30 years old and were born after the "American War". This probably also explains the "forgiveness" and openness toward Americans.
3. In Hanoi and Hue motor bike followed by the bicylce are the predominant forms of transportation. They are more affordable and the roads are too small to accommodate cars for everyone. See photos.
4. Food is plentiful in most of Vietnam.
5. The economy is thriving and will only continue to expand and grow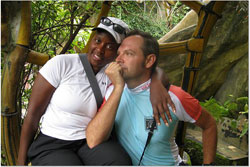 The trip is going really well. The hotels and service are fabulous. I really like our cycling tour company, VeloAsia. I also really like most of the people on the tour. We started in Hanoi which is bustling and now in Hue which is a bit more sleepy. The photos will tell you a lot. In Hanoi, I went for a stroll around the lake at 5:45AM and you would not believe the number of people already out exercising and socializing. See photos. I have been a morning exerciser for years and have never witnessed anything like this. There were aerobics classes, Tai Chi…which was amazing to watch…competitive badminton like I have never seen before--some playing with two racquets one in either hand—walkers, joggers and even a small section of weight lifters. To top it off, the sun came up over the lake. It was great.
I will post again soon. Hope you enjoy the journey as much as I am.
Greetings from Nha Trang Vietnam!
I am glad you are enjoying the photos because I enjoy taking them. The trip continues to be a wonderful experience. As I cycle off the beaten path and witness the variations in Vietnamese lifestyle and geographic terrain, I am impressed by the sameness of people and places around the world. As you will see in the photos, one stretch of road resembled Utah, Arizona or Califoria. But even more impressive to me is our ability to instantly connect with a total stranger because we speak a universal language.....a wave and a smile. We really should try this at home.
It is incredible. My heart and mind are wide open.
Lisa Fitzpatrick