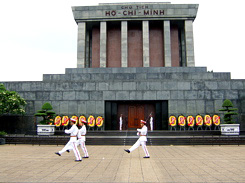 Arrive decades-old Noi Bai Airport, where ancient Russian MIG fighters still take to the air. The cultural and political capital of Vietnam, Hanoi has slumbered largely unchanged since the sixties. Step back in time on the French-built, tree-lined boulevards and old quarter, which has been continuously inhabited for over 1,000 years (Hanoi celebrated it's millennial anniversary in October, 2010).
Meet escort after clearing immigration* and customs at Noi Bai Airport and transfer to accommodation on Hoan Kiem Lake. Afterwards, we'll begin sightseeing in the lake area by traditional cyclo (pedicab) before our dinner orientation together at one of Hanoi's wonderful restaurants.

* Note: visa required in advance of arrival (please check your pre-tour packet for forms and detailed instructions)


Silk Path
195 Hang Bong Street, Tel: (84-4) 3266-5555


International SOS 31 Hai Ba Trung, Tel: (84-4) 934 0666 (Emergency evacuation coverage provided for all travelers)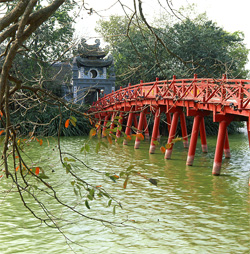 Hoan Kiem Lake
Today, sightseeing at Hanoi's more interesting landmarks, rising at dawn to wander the morning markets before driving to visit the Ho Chi Minh Mausoleum where "Uncle Ho" lies in state and the nearby centuries-old Temple of Literature.
Afterwards, breaking for lunch featuring Cha Ca, a delicious 5th-generation turmeric grilled fish dish, at Cha Ca Va Long before venturing out on foot in the central lake area to explore the busy Old Quarter's shops, galleries, markets, historic sights, and pausing to visit a local family in their traditional "tube" house. In the afternoon, we'll enjoy an activity becoming popular with the Vietnamese, although we recommend it as our favorite jet lag cure -- an herbal soak, steam bath and sauna, followed by massage.
In the evening, delightful water puppets theater — a performance art unique to Vietnam, before dining at one of the capital's fantastic local restaurants. (B,L,D)

Bia Hoi, or happy hour, is a post-work custom unique to Hanoi, with draft beer and snacks served up in street cafes. Other culinary treats? The best pho in the country is in Hanoi, don't miss a piping hot bowl in the Old Quarter, elbow-to-elbow with the locals (ask your guide for the better places).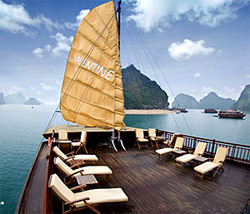 Hanoi to Halong Bay via private car, stopping en route to admire the picturesque landscape and villages en route. After arrival, board traditional wooden yacht for seafood lunch while cruising out onto the bay.
After docking to hike in Hang Dau Go (Hiding the Timber Cave), the largest grotto in the Halong (everyone going to Halong does this, but it's worth a glance and allows us to prep the kayaks). Afterwards, boarding kayaks for afternoon paddle with your guide. In the afternoon, cruising out into the further reaches of the bay away from other tourists boats along our own unique route. From the deck, enjoy the beautiful sunset and seafood dinner of fresh, local catch. Overnight on board.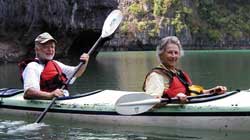 Are we in a James Bond movie (Goldfinger)? After heaping omelettes, fresh soup, bread, butter, jam and a strong jolt of delicious Vietnamese sweetened coffee, we're off for another round of kayaking on the bay, exploring grottoes, coves, inland lagoons, and empty white-sand beaches.
Over lunch, we'll motor back to port and then return to Hanoi, arriving in the late afternoon. Evening an dinner free in Hanoi.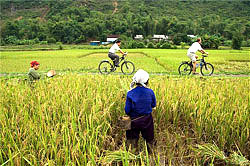 Early departure from Hanoi to the beautiful Hoa Binh Province southwest of Hanoi. Along the way, stopping in Giang Mo, a small Muong ethnic village not too far from Hanoi but still retaining its native lifestyle and culture. Here enjoy our first hilltribe encounter, exploring the village by foot, enjoying the rural atmosphere of the surrounding rice fields and visiting with the welcoming locals to learn about their daily routine so different than our own.
Afterwards, head on to Mai Chau valley to begin biking through the Thai ethnic villages and surrounding rice and corn farms on dirt paths. In the evening, join in a traditional Thai dance performance and partake of Ruou Can (sweet rice wine) tasting. Overnight at the picturesque Mai Chau lodge.

The Mai Chau Lodge is a real treat, built only a few years ago with stunning views of the surrounding landscape and pleasant pool area for post-ride "R&R."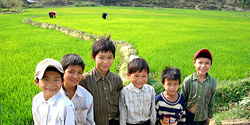 In the morning, drive for about one hour to Pa Co, a village near the Laos border. From here, scenic riding around Pa Co, passing through Blue and Flower H'mong villages, surrounding mountain jungle and apricot and peach orchards. If it is Sunday, visit to the colorful hilltribe market. The Flower H'mong wear especially beautiful traditional clothing here, and we'll ride to Hang Kia village to visit a local home and find out how they make the fanciful brocade for their impressive costumes.
After a lunch, we'll return to Hanoi, arriving in the afternoon and then continuing onto the airport for a one-hour flight to Hue, the Imperial capital. After arrival, transfer into the city for dinner. Accommodation along the Perfume River.
Hotel Saigon Morin
30 Le Loi Street (84-54) 382-3526


Hue Central Hospital, 16 Le Loi, Tel: (84-54) 382-2325

We leave Hanoi, having glimpsed the artistic center of the country. You will have noticed, rather than formal movements, contemporary Vietnamese art has been shaped more by political and social influences including colonial occupation, wars of liberation, partitioning of the country, socialism, and ultimately economic and cultural isolation (from which the country is now emerging). With no developed or strong artistic traditions to draw from, artists have looked to village life for inspiration, yet with new freedom are exploring modern subjects and mediums (our favorite artist, Le An Dung's, is typical of this mix of old and new).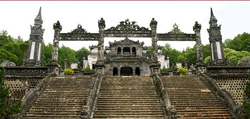 Vietnam's most tranquil city remains largely unchanged by economic expansion in the south. After breakfast, venturing out onto the boulevards along the Perfume River by bike and out into the countryside through seldom-visited villages, pausing to explore two of the finest examples of Imperial architecture, the Tu Duc and Khai Dinh Royal Tombs.
Afterwards, continued cycling through the countryside, pausing for a lunch, and then cycling through small villages along quiet roads outside the city, stopping at secondary tombs and places along the river. We'll also visit a local school where the children will be very excited to see us. In the afternoon, there is time to enjoy a massage before dinner. We'll travel by traditional pedicab to have special dinner at the restored mandarin home of a royal ancestor, tasting local specialties such as banh xeo, a Vietnamese crepe.

Not to miss: late afternoon drink at the lounge atop the Imperial Hotel with panoramic views over the city, looking out with your map to figure out where you cycled today. Where are the restaurants? It appears Hue would be the perfect setting for restaurants, with the Perfume River cutting through the city like the Seine through Paris. Alas, the people of Hue have no time for it, the city is renowned for education and deeper interests. Indeed, Ho Chi Minh was from the area.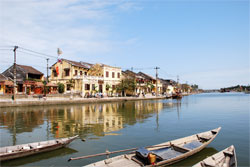 A longer day of cycling, departing Hue through the high-walled Imperial Citadel and then biking along the scenic coastline passing burial tombs, small villages and emerald green rice fields to the blue waters of Lang Co Lagoon. After a seafood lunch in Lang Co, we'll conquer the 10-kilometer long, 500-meter high Hai Van Pass (Pass of the High Clouds). At the summit, we'll explore French and U.S. forts while savoring panoramic views of the of the coast all the way out to Danang.
After a thrilling descent to the green rice fields and white-sand graveyards around Danang, we'll dismount our bikes and board our bus for transfer through the busy traffic around Danang into Hoi An.
Afternoon arrival in Hoi An, typically everyone's favorite stop in Vietnam. After strolling the quaint town center, we'll enjoy dinner of local dishes, including White Rose, a Vietnamese won-ton.
Riverside

175 Cua Dai Road. Tel: (84-510) 386-4800


Family Medical Practice, 50 Nguyen Van Linh, Danang, Tel: (84-511) 358-2699


Thai Binh Duong (Pacific) Hospital, 06 Phan Dinh Phung, Hoi An (84-510) 392-1888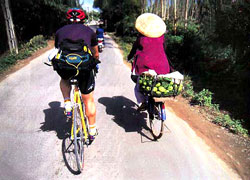 After breakfast, exploration of charming Hoi An by foot, beginning with the central market, shopping for ingredients with chef for a half-day, hands-on cooking demonstration. After preparing local and dining for lunch of delicacies, such as white rose (a variety of won ton) or bun rieu (right), balance of day free at leisure to relax on Cua Dai Beach or boating across the Thu Bon River to enjoy tranquil cycling through local villages along the coast. In the afternoon, visiting Hoi An's crafts shops and renowned tailors to be tempted by the town's famous "overnight tailoring."
At dusk, cruising by private boat along the river to the elegant open-air Red Bridge Restaurant. (B,L)

Hoi An brings all the best of Vietnam together in one place, traditional architecture, delicious local cuisine, picturesque setting, and friendly townspeople. Optional activities (or non-activities) include: lazing at the beach, cooking class at the Red Bridge Restaurant, or half-day spin cycling outside the town.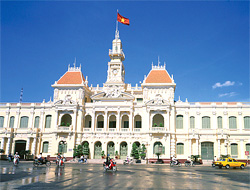 Depart early along the coast to historic China Beach, where U.S. troops enjoyed "R&R" and also exploring nearby Marble Mountain where carving shops work the stone. Afterwards, lunch in Danang before boarding one-hour flight to Saigon. After arrival, transfer to our central district hotel near the Saigon River before venturing out on foot to explore central Saigon's attractions, visiting craft shops, art galleries and cafes.

Also, sampling various coffees (Vietnam is the world's second largest producer) and street cafes. In the evening, exploring Saigon's famous nightlife after our final dinner together at the vibrant Quan An Com, or another of the city's popular outdoor restaurants,serving up Saigonese specialties prepared in the open for diners to watch. (B,L,D)
Grand Hotel
, 8 Dong Khoi Street (84-8) 3823-0163


OSCAT/AEA, 65 Nguyen Du Street Clinic, Tel: (84-8) 3829-8520



After 1945, Saigon was the largest and the most developed city in Asia. Today, it is again a boomtown and one of Asia's most-rapidly-changing cities. It may be a shock after the rest of Vietnam, with nearly five million scooters and a rush of development the city is well on its way to becoming another Bangkok (although a uniquely Vietnamese one).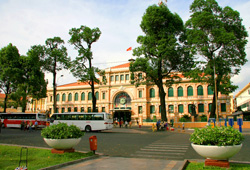 Full-day city tour of vibrant Saigon, visiting historic sites and landmarks, including the Art Deco post office (designed by Eiffel), Reunification Palace, and Ben Thanh Market. After, we'll drive out for lunch in Chinatown, known as Cholon, also exploring the busy Bin Tay market and pagodas. In the afternoon, we'll return to our hotel and have some time for last-minute shopping.
In the evening we'll enjoy a farewell dinner at the popular outdoor local restaurant Quan An Ngon, with stalls preparing different dishes live for diners to see. Afterwards, strolling back the central quarter for drinks atop the historic Rex Hotel.
Farewell to crew before transfer to Tan Son Nhat Airport for return flight home (or continue on one of our tour extensions such as the Mekong Delta or the temples of Angkor). Cam on nghieu lam, hen gap lai (thank you very much, see you again)!


---
Legend for Included Meals: B=Breakfast, L=Lunch, D=Dinner
---
Cycling Ability
You should be an intermediate to advanced cyclist in terms of skills with bike handling, not fitness, and have experienced cycling roads typical in a developing country. If you have not traveled in a developing country on bicycle before, we do not recommend you begin in Vietnam. Although we do our best to skip busier sections and take advantage of side roads, you should feel comfortable riding with some amount of traffic. We would be glad to put you in contact with past travelers, of all abilities, if you would like more feedback.
Landcost
Your tour fees cover almost everything, but please do check for details of what is and what is not specifically included. Seasonally-imported Raleigh USA and Trek hybrid bikes included at no extra charge. Compare our tour itinerary and costs with Backroads and Butterfield and Robinson.
International Airline

Tour Notes
Vietnam reaches far beyond the historical and scenic sites we offer on this itinerary and we encourage exploration on your own at anytime during the tour. Additionally, we may modify the itinerary often to improve the quality of our trips but more often by necessity. Delayed flights, weather extremes, undeveloped infrastructure, an overall diminished sense of urgency, and other conditions that may be beyond our control all play havoc with careful preparations. We respectfully ask you carefully consider if traveling under such conditions would be unpleasant for you.