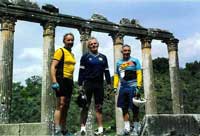 Dates: Custom Tour 2+ Persons
Road Cycling with Full Support
12 Days & Nights
Interm. to Adv. Cycling
100% Fair Paved Roads
Max Group Size: 8
Landcost: From $
4
,480
Airline: Aprox. $990 RT USA
Rental Bike: Hybrid $120
ITINERARY BRIEF
0 Arrive Izmir
1 Ephesus to Priene
2 Priene to Milas
3 Milas to Bodrum
4 Bodrum
5 Bodrum to Marmaris
6 Marmaris to Dalyan
7 Dalyan to Fethiye
8 Fethiye to Kas
9 Kas
10 Kas to Olympus
11 Olympus to Antalya/Istanbul
12 Istanbul

The TV in the spice bazaar is showing CNN, while around the corner aretombs dating back to the times of Babylon. Turkey is not only at the cultural and geographical crossroads of Europe and Asia, but also the ancient and the modern worlds.
Cycle through some of the most spectacular scenery in the world: the transparent blue waters of the Aegean and Mediterranean coastline, idyllic beach coves and lagoons, sparse countryside, olive tree groves, green high-mountain forests, picturesque port towns where yachts of the world congregate for the majestic "Blue Voyage,"and through remote whitewashed villages with our bikes offering dramatic sights seldom seen up close by other travelers.
We'll also see the many ruins of the great civilizations that have built their stone cities here. The "Turquoise Coast" is abundant with the magnificent legacies of Greek and Roman cultures: towering Greek columns, Roman amphitheaters and entire city ruins are among the most numerous and well preserved in the world. We'll pause to explore the temple of Apollo, the ruins of Caunos, the tombs of Amyntas, the picturesque bays of Phaselis where Alexander the Great summered, Tarsus, Perge, Caesareia, Miletus. and Ephesus -- the greatest Roman archaeological site of them all where St. Paul was born, preached, and lived.
Finally we'll return to Istanbul, a city unequaled in historical import. This modern day metropolis is a wonder to behold, with its timeless bazaars, mosques, treasure-filled museums, aqueducts and maze of streets reflecting an incredibly rich history. Is it Europe? It looks like it, but the mesmerizing call to prayer echoing at sunset across the city from Istanbul's over 500 mosques will make you think otherwise. Last, but not least - pleasure will be found in the company of the Turkish people, known for their fierce hospitality and less so for their world-class cuisine.
Turkish cuisine has never gotten the attention it deserves as one of the world's finest. One of our here unnamed guides argues it even better than Italian. The delicious variety of sweets, salads, fruits, grilled meat dishes, and soups reflect an empire that spanned from Northern Africa, to the Balkans, the Middle East and into Europe as far as Vienna. We will indulge in a variety of delicious and regional specialties, including stuffed peppers and grape leaves, cheese borek, fresh tomatoes and olives, feta cheese, grilled kebabs, rice pilav, figs, sweet baklava, pudding and cakes accompanied by Ephesus beer, a glass of Turkish wine, silted coffee, apple tea and raki— the national, anise-flavored alcoholic drink that is shaken, not stirred. Although disguised as a cycling tour, the bikes are merely there to work up enough appetite to enjoy the fabulous Turkish cuisine! And enjoy you will, we eat at what we feel are the best restaurants to be found (you should not plan on losing weight). Accommodations are at the finest hotels and pensions.
On the bike, this tour is designed for intermediate to advanced cyclists. The daily mileage is higher than our other tours and there are only two "rest" days on the itinerary. However, there will be a long and short riding option at the day's start and our bus will always be nearby when legs give out. Mileage listed below is maximum distance for the day, however there are options for extended riding on the shorter days. Beyong the biking, there is always time for swimming, sunning, a traditional Turkish bath, wandering local sites, and of course, eating.
For those with more time, we recommend visiting Cappadocia. For those who wish to make a side-trip to see the lunar landscape of Cappadocia, we can arrange a post-tour 2 or 3-day itinerary for you through an experienced local operator, with bicycling or without. For information on travel to nearby Greek islands, including Rhodes, please see our information page.