It may seem a new destination, but our Myanmar (Burma) bike tours have been running for over a decade now. In 1999 we were the first North American company to set up shop and organize trips in Myanmar and have since hosted hundreds of delighted travelers.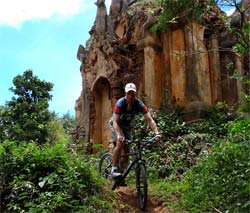 Our tours feature small groups, meticulous preparation, imported Trek bikes, tropical jungle rides, few tourists, enchanting ruins, warm welcoming smiles, rustic villages, magnificent ruins, delicious meals, and tranquil roads with no traffic — high adventure!
Come cycling through Myanmar in areas closed off to travelers for over the last forty years. Our Myanmar cycling trips are not limited to the classic route (below), but always changing and organized to your preferences.
See our calendar below for seasonal Myanmar tours or if four or more people, consider a custom, private tour. Our Myanmar bike trips can be customized to your preferred dates and travel preferences such as the amount of riding and other activities you may want to include, like photography. If you're considering a Butterfield & Robinson tour, we provide a compelling alternative with more comprehensive itineraries, higher-quality hotels, and custom, private tour options for less than their group tours cost.
September through February is ideal weather-wise, and the other in November dates coincide with the Lights and Taunggyi Hot Air Balloon Festival or the Inle Lake Paung Daw U Festival. Outlier months you may have read are undesirable, such as June, can actually be fine, and free of other tourists. For example, Inle Lake, with the finest cycling in Myanmar, is pleasant in June while other parts of the country are hotter but tolerable. Ask us about your dates. Cycling days average about 15-55 miles (89km), on roads and dirt paths of poor to fair quality (mountain bikes with shocks recommended, although we now have Trek hybrids available).
Small group of your own? After Vietnam, our Myanmar bicycle tours are our most popular private, Myanmar custom biking tours. We have organized our trips for families with small children to ex-professional racers, but most of of are tours are leisurely emphasizing local culture and personal encounters.
Special One-Time and Limited Departures:
| | | |
| --- | --- | --- |
| Our popular Iron Chef culinary cycling tour comes to Myanmar! Join us for this once in a lifetime culinary journey through Burma. | Myanmar's largest and most spectacular festival, the annual Fire Balloon Lighting Festival in the Shan State. | Fundraising Pro Tour with US Pro Tony Cruz, Olympic and 7-11 rider John Brady, and English National Champion Dennis Lightfoot. |
Custom, Private Tours
Our "classic" Myanmar Biking Tour Itinerary is below [click to see the full Detailed Itinerary], although like our Vietnam tours, most our Myanmar cycling trips are customized, private trips for couples, small groups, and families with children of all ages.
Day 1 Arrive Yangon (from Bangkok or Singapore), Yangon to Inle Lake
Day 2 Inle Lake
Day 3 Inle to Kalaw Highlands
Day 4 Kalaw to Pindaya
Day 5 Pindaya to Mandalay (via Kyaukse)
Day 6 Mandalay
Day 7 Mandalay (Ohndaw) to Monywa
Day 8 Monywa to Pokkaku and Bagan
Day 9 Bagan
Day 10 Bagan to Mount Popa
Day 11 Bagan to Yangon
Day 12 Depart Yangon to Bangkok, Singapore, Ngapali, or Phuket
NEW! Shan State Mountain Biking. Tours of one to four days in and around beautiful Inle Lake. Pagodas, floating islands, monasteries, wineries, boating and much more. Suitable for all ages and abilities. Please contact us for more details about this one-of-a-kind Myanmar cycling experience.
Recommended pre- and post-Tour Extended Travel Ideas:

Ngapali Beach Escape: Myanmar's deserted West Coast (2-3 days)



Kayaking Khao Sok Nature Preserve Southern Thailand with birder Dave Williams (3-days)



ANGKOR: Grand Temples of Angkor (now with direct flights from Yangon)

I just wanted to send a brief note to tell you how fabulous our Myanmar trip was! Quite honestly, it surpassed my expectations in almost every respect. Prior to arriving I had some concerns about the level of oppression we would see and feel from the government forces (there was hardly a trace), the food (it was wonderful!), and the accommodations (they were nicer than places I normally stay in the US).
And Melvin was a terrific guide. Part way into our trip we had formed a bond that made all of us feel that Melvin was a part of our group, not just our guide. He was extremely professional, very conscientious, very flexible in accommodating our requests (while also keeping us on task and on schedule), very knowledgeable about the specific sites and Burmese culture and history, quite fun and funny, and very astute in handling potentially difficult situations. Our driver Aow, and helper, Mimi, were both great. They both greeted us with beaming smiles every morning, knew the intricacies of our bikes inside and out, and were always there to help in any way they could. I'm already studying my World Map, thinking of the destination for our next trip!" —Nick Andrews, New York City