T R I P D E T A I L S : I R O N C H E F

A B O U T
This tour follows our "classic" route, exploring Hanoi, riding along the central coast, south to Nha Trang, then up into the Central Highlands, finally reaching Saigon at trip's end. If you arrive a couple of days beforehand, you can go kayaking on Halong Bay and have seen all four of Vietnam's World Heritage sites by the time you depart. This trip is about Vietnamese culture, a rich and very intense culture, with a focus on cuisine because food is such an expressive and outstanding component of their culture. We'll also bike some, but this not a "bike tour" in the traditional sense, ticking away miles with odometers (although we do organize those kind of tours too -- please see our Ho Chi Minh Highway tour which covers about a thousand miles in 12 days). We'll certainly bike on this tour, but really because there's no better way to see the country and meet the Vietnamese.
D I F F I C U L T Y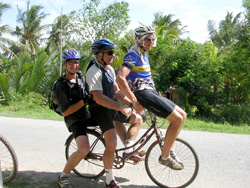 With multiple support vans and guides, all cycling abilities and preferences will be accommodated, even non-cycling partners or spouses who will plan separate activities and sightseeing for while other ride. Ride at your pace. Our route is largely flat, with longer two passes coming near the beginning and end of our trip, these are optional, as is any portion of our riding.
Some days we ride in town, such as Hue. We will have an easy orientation ride there to begin the trip, but you should already be comfortable riding on roads shared with traffic and have good bike handling ability. We would be happy to send you are pre-trip training plan for this tour.
*How many miles per day? This is a cultural trip foremost, with a culinary focus; we won't be counting miles pedaling with our head down. This suitable (and enjoyable) for any level of cycling ability (even non-cycling spouses). Those who wish to ride a lot (we don't have to ride as one group except on some portions of city tours), will be pleased that we're former racing cyclists and can plan additional riding time for you.
H O T E L S
No surprises here, nobody knows better than we do that bikers need to sleep well at the end of the day. For our Iron Chef tour we offer two levels of accommodation, either boutique properties (the finest in each destination, such as the Riverside in Hoi An) or luxury properties in deluxe category rooms. Both classes of hotels offer the very best in each destination and in deluxe, not standard rooms. Below is a selection of the boutique and luxury hotels we stay at on this trip. Please contact us for specific information on any of these properties.
L U X U R Y H O T E L S U P G R A D E

SOFITEL METROPOLE Hanoi
The Historic grande dame, recently restored 230-room French Colonial era hotel with ideal location between the Opera House and picturesque Hoan Kiem Lake. The central location allows walking or pedicab transport to nearby highlights, such as the Old Quarter, which alone gives it the nod over other luxury hotels in the capital, yet the service and infrastructure are also premier.

Evocative century-old original structure and newer Opera Wing (we like the new wing while most others recommend the classic wing, which we find dated and contrived). A peaceful inner courtyard and outdoor pool surrounded by three popular bars, plus Vietnam's best French and Vietnamese restaurants. A spa and fitness center rounds out the amenities. Recommended if you're looking for top service and renowned reputation. [Hotel Web Site]

LA RESIDENCE Hue
Our favorite place to start riding, spacious grounds, terrace set overlooking the Perfume River and only a few minutes from riding in the countryside. The Historic colonial property was recently restored with a great location. The rustic art deco-style hotel housed within former colonial governor's mansion, plus two new addition wings. Many of the 122 rooms and suites offer wide views of the river and the restaurant serves up good Vietnamese cuisine in a city lacking for the most part. There is a garden with a very large saltwater pool overlooking Hue's ancient Citadel, plus spa, gym and tennis.

Many of our past travelers have expected more from this property and although it is Hue's finest, it is an unremarkable if aged accommodation and La Residence should not be considered comparable to the Metropole or other luxury hotels in the region (although the spa is one of the finest in Vietnam). Note: This Accor Sofitel property is not related to the Orient Express' La Residence in Siem Reap and Luang Prabang, two of our long-time favorites. [Hotel Web Site]

ANANTARA RESORT Hoi An
Formerly The Life Resort. An in-town alternative to staying at the beach resorts located several miles out on the coast (see Nam Hai below). The resort is situated on the Thu Bon River in the center of Hoi An. The property is the finest hotel located within town and new renovations after flooding in 2010, have left the hotel in immaculate condition. With a fine location overlooking the river and steps from all central sites, including the market, tailors, and restaurants, the hotel can serve as a convenient base for multiple outings into town throughout the day, including the market as fisherman arrive before dawn. We recommend the balcony river view rooms. [Hotel Web Site]

THE NAM HAI Hoi An (upgrade)
Indochina's premier beach resort. A lush, sprawling resort of over 100 beachfront and pool villas, located on the coast just outside of Hoi An (about 20 minutes by car). The GHM Hotel's Nam Hai rivals Aman properties in style, service and luxury. The flawless and harmonious architecture blends into the richly landscaped grounds. All villas offer expansive and stylish living spaces, indoor and outdoor sitting areas and fine views of the ocean. The interior design is restrained and sophisticated, with subdued tones contrasted with colorful silk and other decor.

Modern amenities include plasma-screen TVs, Bose sound systems and iPod docking stations. Spacious baths provide eggshell lacquered tubs, and extend into private gardens with outdoor showers. The Restaurant serves fine Vietnamese and Continental cuisine, while outstanding seafood is available in an informal beachfront setting. Facilities include three infinity swimming pools and a tennis center. [Resort Web Site]

ANA MANDARA Nha Trang
A renowned Six Senses property, this stylish resort enclave lies amid tropical gardens on a narrow strip of land fronting the beach (one of the only beachfront resorts), an hour by air north of Saigon. The resort has been welcoming VeloAsia bikers since it opened it's doors in the 90s. The resort's open-air compound features outdoor dining, lounge, pool bar and 17 villas containing 74 high-end rooms. The extra-spacious "Deluxe" or "Ana Mandara" villas, feature chic baths and scenic balconies or terraces overlooking the sea. Two indoor/outdoor restaurants serve excellent Vietnamese and Continental cuisine. Facilities include two swimming pools, tennis courts and spa. A wide variety of water activities, from boat charters to windsurfing, snorkeling and scuba diving, can be arranged.

THE DALAT PALACE, Dalat
One of our all time favorites, the Palace is almost worth a side trip to Dalat just to stay there. This former Sofitel property was elaborately restored during the 1990s to its original French colonial condition, complete to the handmade-period fixtures. Overlooking the central lake and adjacent golf course, the Palace features wide, spacious grounds, outdoor terraces and a gazebo offering plenty of places for privacy and solitude. Polished wooden floors, hundreds of oil paintings, high-ceiling rooms and a large dining room are richly detailed. On the basement level is Larry's Bar, which offers an informal setting for happy hour. Downtown, cathedral, post office, and the lake are a short stroll from the grounds. [Hotel Web Site]

THE CARAVELLE (Club Floor), Saigon
Why not the Park Hyatt? Several reasons: the Hyatt is across the theater square so we may skip over and enjoy the piano lounge, also we'll be more spoiled with our larger rooms, dedicated concierge, afternoon buffet and drinks, large fitness center, and enjoy high tower views over the downtown area which the Hyatt does not have. And old favorite, the Caravelle vies for top hotel in Saigon as you might have already surmised. We prefer the better fitness center and more private, spacious area than the cramped Hyatt (although their piano lounge is pleasant at night).

We prefer the Club Floor with aforementioned amenities. Most District 1 attractions and shops are within walking distance or minutes away by taxi, including the Reunification Palace and Ben Thanh marketplace. [Hotel Web Site]
C O M M U N I C A T I O N S
Many of our travelers express concerns bout being able to stay in touch with home or work during this trip. For better and worse, almost all carriers now have coverage within Vietnam which is excellent along this route. Wifi is also available at all of our hotels.
I M M U N I Z A T I O N S
Our comprehensive pre-departure information packet covers information on immunizations and health. There are no immunizations required for Vietnam and malarial does not occur in any area where we will be traveling.
W H A T' S I N C L U D E D?
Comprehensive pre-departure information packet, required Vietnam Visa on Arrival is included. All transport from your arrival in Hanoi until you depart the last day in Saigon, including domestic flights, entrance fees, rental bikes, helmets, almost all meals, snacks
(alcoholic beverages are not included), full support, and emergency air evacuation insurance. Ground transportation in private air-conditioned vehicle (complimentary cold towels and drinking water). Sightseeing per itinerary including all services, transport, admission, activities and related fees. Accommodation per itinerary. What's the difference between VeloAsia and other tour companies? All travelers are covered under our emergency medical and air evacuation policy through International SOS. Not even B&R or B&R offer this coverage.
W H A T' S N O T?
International airlines. Visa fees upon arrival, airport taxes, staff gratuities (customary), and items of a personal nature, such as laundry and telephone. Trip cancellation insurance (ask us for a quote. Electable changes to confirmed itinerary, including hotel, room class, airlines, services, activities, and any other alterations (any itinerary changes are subject to cancellation, change and other fees). Caveat emptor: The purchase and import of goods is a top complaint about travel in the region. Traveler assumes all responsibility for the purchase and import of souvenirs, objet d'art, goods as well as services during their trip. Indochina Travel will not accept any responsibility, in any way, for any transactions or purchases by a traveler regardless of local guide's recommendations or endorsement
B I K E S

This trip can be done on a road bike, however we prefer Trek hybrids which are more suitable for the road conditions of our route (also allowing you to navigate down dirt trails and roads into villages and farms along the way) and ride more at the pace of traffic in places such as Hue and Hoi An.
If you prefer bring your own bike, we will assemble and disassemble it for you (or along with you as a helping hand). We do have several high-end Trek and Cervelo road bikes available for rent and also Trek Hybrids if that's what your more comfortable riding. We also have Trek mountain bikes with shocks, providing a more stable, albeit slower ride.
P R E & P O S T T O U R T R A V E L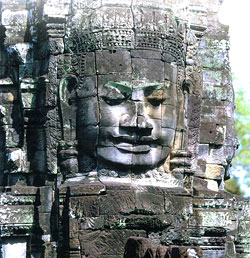 We encourage you to arrive a couple of day before we meet in Hanoi to enjoy kayaking in stunning Halong Bay. We can arrange for an overnight trip on one of the few quality boats that cruise this remarkable UNESCO World Heritage site.
Post-tour, consider the short hop into neighboring Cambodia to explore the magnificent stone temples at Angkor, the largest concentration of religious ruins in the world. We recommend at least two full days and can make all arrangements for you, including some biking.
W H A T E L S E?
Vietnam, nor this trip, will please everyone. Vietnam remains, for the most part, a developing country without all the amenities, infrastructure, order, and cleanliness you may enjoy in other destinations. This is not to say the trip will be roughing it, but if you're expecting precision, absence of the unexpected, and flawless attention to detail, this is not that type of trip nor destination. We've been organizing trips in Vietnam since 1993 and are very experienced with organizing trips in the country but surprises still do occur. For any questions you may have about this tour, please do contact us. We'd be happy to put you in contact with travelers who have been on this trip previously.
QUESTIONS? Call us in San Francisco at or Email us.
We are happy to answer questions or inquiries.