Cycling the New Frontier
Emerging from a forty-year slumber, blessed with warm people, wonderful cuisine, picturesque countryside, and most importantly for cyclists, lack of traffic, Myanmar is destined to become Asia's next place to visit. We gave a heads up on Vietnam way back in 1992, and now have the same feeling about Myanmar.
Myanmar straddles two of Asia's great rivers below the mountainous foothills of the Himalayas. As the western gateway to Southeast Asia, the diversity of its people, culture, and topography combined with a rich history make it one of the most fascinating and beautiful countries in the region. Political problems and divisions within the country (to put it lightly), ensured that Myanmar missed out on the economic booms experienced by many of its neighbors, and it remains a rural, undeveloped nation.
Our biking tour of Myanmar cycles through the sleepy heartland from pious Mandalay on the storied Ayeyarwaddy River and the picturesque Inle Lake, before flying back to the capital, Yangon. On the way we'll visit the ancient city of Bagan, cycling amongst the thousands of pagodas, stupas, and temples that dominate the river valley that was once the center of a powerful and deeply religious empire. Riding through the countryside, we will be greeted by a warm and friendly people few tourists see or meet. In the mountains we'll encounter a variety of tribal people, as well as enjoying the splendid colonial charm of Kalaw, where the officers of the Raj escaped the high heat of the Burmese summer.
At the end of the trip there is a chance to relax in Inle before going back to Rangoon visiting the Shwedagon Paya and enjoying the colonial charm of the capital city.
More of an expedition than cycling tour, we'll bear witness to a largely untouched, fascinating and rich cultural environment, but you may expect some degree of spontaneity (aka predicaments and setbacks), which are particular to this part of the world, level of development, and Buddhist nature. Like the first explorers to join us in Vietnam, we hope adapting to the conforms of the local culture will contribute to our experience, rather than vice versa.
This classic Myanmar tour itinerary is only an example of trips we organize. We can organize trips to your preferences and interests, such as photography, artist encounters in Yangon, jade craftsmen in Mandalay, wildlife, and archeology to name a few.
BURMA TOUR ITINERARY
Day 1 | Arrive Yangon, Yangon to Heho (Inle Lake)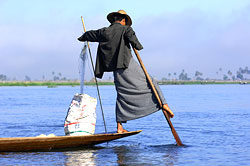 After arrival in Yangon, meet escort and transfer to the domestic terminal for our short flight to Heho and then by van to sublime Inle Lake. We'll spend the late afternoon cruising by boat on the picturesque lake until sunset, enjoying the spectacular views. After, enjoying a dinner on the deck while going over our plans for the overall tour and the next day.
Leisurely cycling today of about 22 miles (35 km)
Accommodation on Inle Lake at the Inle Princess
Day 2 | Inle Lake
In the morning, we'll set up and test our bikes before departing by bus to Kakku, a lesser known but impressive site comprised of several thousand small stupas in the Pa O region. From here, we'll begin riding back to Inle with a wonderful descent dropping nearly 2,000 feet to the lake basin. After lunch on the lake, loading our bikes onto our boat, cruising across Inle Lake, passing stilted villages with their unique floating gardens. After reaching shore, we'll mount our bikes, riding through lake front villages, pausing at temples, markets and to meet with local families.
Leisurely cycling today of about 35 miles (56 km)
Day 3 | Inle Lake to Kalaw Highlands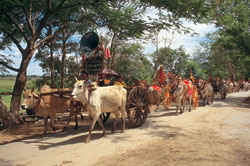 After a leisurely breakfast admiring the sun rising over the lake, we'll depart by bikes climbing up from the lake on quiet roads for the short but challenging climb into the scenic country side to Kalaw, a hill station filled with interesting mix of colonial-era architecture and hilltribe villages. Depending on the time, we can wander through the market or ride around the city looking at the decaying colonial mansions or hoof it on a leisurely hike through the foothills surrounding the town.
41 miles (66 km) with climbing and rollers
Accommodation at the Amara Mountain Resort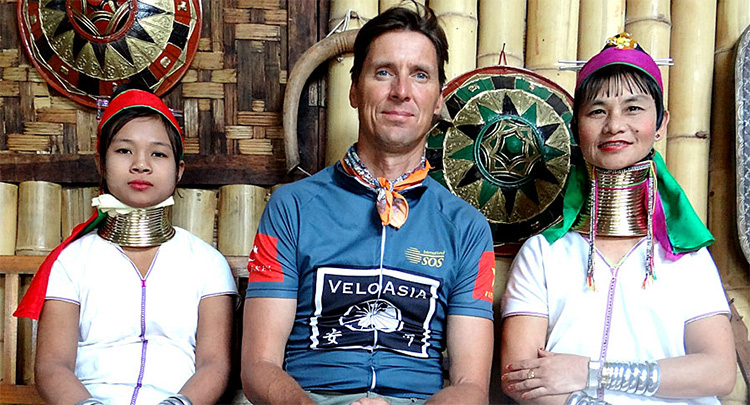 Day 4 | Kalaw to Pindaya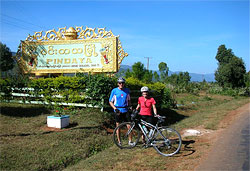 Today, cycling due north to Pindaya on a rolling empty road flanked by beautiful manicured fields from where much of Myanmar's produce comes from. The area is rich with a diversity of hilltribes and we will pause to visit some of the villages en route. After we reach Pindaya, strolling the small town's sites and lake front. Before dinner we will also trek up to visit the famous Pindaya caves, filled with hundreds of Buddha statues. After, we'll enjoy the sunset from the hill side over the lake.
32 miles rolling hills (54 km)
Accommodation in Pindaya guesthouse
Day 5 | Pindaya to Mandalay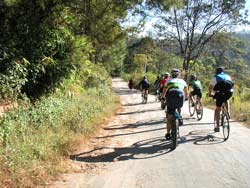 The longest travel day of our bike tour goes northwest on a recently-paved, rolling road through mountains and jungle-lined roads to Kyaukse where the bus will transfer us the remaining distance "on the road to Mandalay." Mandalay is the historic old capital, but remains the center of Myanmar culture and religion. It is also where traditional arts and crafts are centered. Myanmar abounds with historical sites, cultural memorials and Buddhist monuments and we will explore some of them after arrival. In the evening, dinner overlooking the Ayeyarwaddy River.
Up to 160 kilometers (100 miles), rolling country road
Accommodation in Mandalay Hill Resort
Day 6 | Mandalay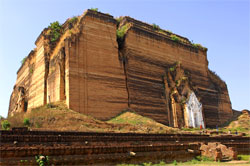 Today, touring Mandalay by foot, the religious and cultural center of Myanmar. From ancient wooden palaces to massive pagodas to serene monasteries, Mandalay has it all. After breakfast, traveling outside Mandalay to the former royal capital of Amarapura, including an interesting stop at the Mahagandayon Monastery, a school for novice monks. Also visit to U Bein Bridge, a 200 year-old bridge and the longest teak one in the world. In the afternoon, sightseeing in central Mandalay, including Mahamuni Pagoda, gold leaf hammering, Shwe Inbin Monastery; Shwenandaw Monastery, noted for its exquisite wood carvings; Kuthodaw Pagoda, renowned for its stone slabs of the Buddhist scriptures, and panoramic Mandalay Hill, ending the day with a sunset view from the peaceful Sagaing Hill across the Ayeyarwaddy River.
Day 7 | Mandalay to Monywa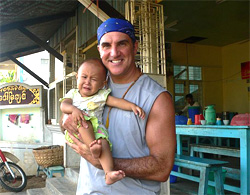 After breakfast, we'll transfer out of Mandalay mid-morning by bus to Ondaw. Today features a ride west into the desert landscape and heartland of central Myanmar where bullock carts outnumber cars. There are several interesting sites to explore on the way to the provincial capital of Monywa including a pagoda with over 300,000 Buddha images and a monumental reclining Buddha. We'll also stop to visit a village, meeting with a local family in their home and visiting a local school to meet with children before biking onto to pleasant Monywa.
56 miles (94 km) on mostly flat road
Accommodation at Monywa Win Unity Guesthouse

Day 8 | Monywa to Bagan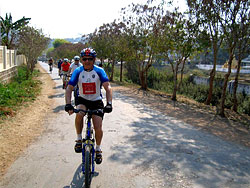 Heading south out of Monywa we'll bike a road with light traffic meandering through a rice growing region along the Chindwind River to Pakokku, passing through hilltribe villages where we'll break for lunch. After reaching Pakokku, we board our boat to cruise on the famed Irrawaddy to Bagan. After arrival in Bagan, we'll enjoy a short ride to our hotel near the world famous ruins. Dinner and delightful, traditional puppet show in Old Bagan.
74 miles (123 km) on quiet country road
Accommodation at the Myanmar Treasure Resort
Day 9 | Bagan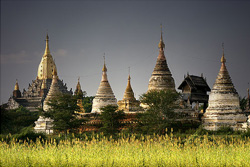 With over forty square kilometers and thousands of pagodas, Bagan is nothing short of breath taking. We'll cycle the ancient plain, pausing to explore primary and secondary temples. If there is time, we can visit the market which has a pleasant mix of local and tourist shops before returning for dinner along the river. Dinner will include another Burmese cultural show of dance, athletics and puppetry with excellent photo opportunities.
32 miles (51 km) on quiet, flat sandy roads
Day 10 | Bagan to Mt. Popa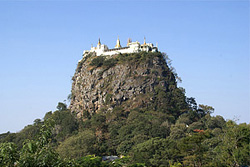 Mt. Popa and the final day of riding. We bicycle round trip to an extinct volcano, Mt. Popa, which dominates the area. Mount Popa was for centuries where kings of central Burma made pilgrimages to confer with the sacred statues about the future of their reigns.
We'll climb the hundreds of steps to the monkey-populated hill (feeding them if your brave enough), for a expansive, panoramic views of the surrounding area. Optional return ride to Bagan. Another dramatic sunset in Bagan.
29 miles (48 km) on quiet, flat sandy roads
Accommodation at the Mount Popa Resort
Day 11 | Bagan to Yangon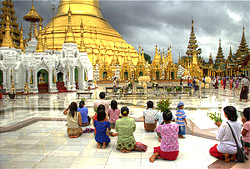 Due to the increased traffic in recent years, we no longer ride in Yangon (right). Rather, we'll spend a relaxing morning packing up our bikes here before we transfer to the airport for our one-hour flight to Yangon.
In the afternoon visiting the magnificent Shwedagon Pagoda. After, strolling the downtown area, historic sites, and shopping areas, before we celebrate our farewell dinner at one of the city's popular local restaurants.
Accommodation at the Savoy Hotel
Day 12 | Depart Yangon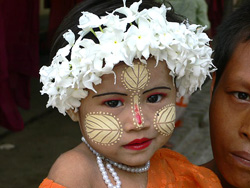 Return flight home or to nearby attractions such as Bangkok, the Khmer temples of Angkor, Thai beach destinations, or the Golden Triangle.
In the afternoon visiting the magnificent Shwedagon Pagoda. After, strolling the downtown area, historic sites, and shopping areas, before we celebrate our farewell dinner at one of the city's popular local restaurants.
"What a fantastic trip we had in Myanmar! First of all, we can't say enough about our guide, Melvin, and how much his thoughtfulness, care and imagination contributed to making this a trip of a lifetime. The cycling (including bad roads, traffic, beating sun) was definitely too challenging for us, but Melvin and excellent driver KongKong found plenty of interesting sightseeing for us to replace our reduced cycling schedule. They even found a remote Nat festival, which had never hosted a foreign guest! Also one perfect stretch of shaded country road outside Monywa that was the highlight of our trip. There for several hours we shared the road cycling with only children on their way to school, local farmers and villagers....a truly magic experience. Each of the hotels was excellent, and each restaurant, and the dishes chosen by Melvin (quite the foodie!) was great. Of our 3 trips to Myanmar, this one with VeloAsia was definitely the best. Of course a special thanks to you and Tree for organizing our trip with such a limited amount of time. Everyone's flexibility at VeloAsia, from start to finish, helped make this a trip we'll long and happily remember." ~ All the best, Laurie and Paul Spector, 2010
Cycling Ability
For our Myanmar cycling tours, all cycling abilities are accommodated: this is a fully-supported tour with light traffic and organized to provide for any amount of cycling desired each day from an hour or two to all day. We organize our cycling trips to be cultural ones, with cycling complimenting travel through Myanmar, not simply logging miles. We would be glad to put you in contact with past travelers, of all abilities, if you would like more feedback.
Landcost
Your tour fees cover almost everything, except dinners free when it's appropriate, required visas, and recommended trip cancellation insurance. Bike rentals are not available for Myanmar although full mechanical support, including bicycle assembly and disassembly will be provided.
Airline
Discount pricing through our airline consolidators. Please call for assistance. If you want to use your miles, Cathay Pacific is a member of One World Alliance which includes American Airlines and United offers bookings into Bangkok and through to Yangon.
Note: We constantly modify the itinerary by necessity. Delayed flights, adverse weather, an overall diminished sense of urgency, and other conditions that may prove beyond our control all play havoc with our careful preparations. We respectfully ask you carefully consider in advance if traveling under such conditions would be too adverse for your enjoyment of such a tour. Please read our Terms and Conditions for other important information.
Guides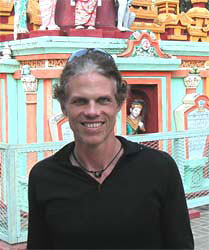 Todd Hanson has also lead our Turkey, Vietnam tours, and Myanmar tours which are his clear favorite. A Seattle native and U.C. Berkeley graduate in English Literature, Todd compliments our tours with a rich background of writings about our destinations.
Muang Muang Htwe is the director of the Myanmar National cycling team and has toured the roads of his native land for decades.