Bhutan Biking Tour Hotels
Hotel options in Bhutan run the full range of the spectrum from the exclusive Aman Resorts (of which Bhutan boasts five of their properties, the most in any one country—see the one in Bumthang below), to a small pool of of luxury and boutique hotels such as the stylish Uma Paro, as well also local inns, largely constructed of wood and stone in traditional architecture, such as the charming Dewachen Hotel in the picturesque Phobjikha Valley.
We organize our Bhutan bicycle trips staying at only best properties in each class and can also recommend a mix of options if you prefer. Below are a brief selection of some hotels we have stayed at since 2001. The basic, local properties are clean, comfortable, warm, and most offer full range amenities and are typically pleasant places to recover and relax after a day of biking. However, we do recommend considering the finer properties to enjoy your trip in the kingdom to the fullest. Below are a selection of some of the hotels we frequent.
Amankora | Paro, Thimpu, Punakha, Bumthang, Gangtey
There are no finer places in the world to relax after a day of cycling than this collection of Amans in Bhutan. Sited in a pine forest in the upper reaches of the Thimphu Valley, Amankora Thimphu is a quiet retreat from the hustle and bustle of the Kingdom's capital. Two accommodation blocks house a total of 16 suites, featuring a combined living and bedroom that includes a king-size bed, a reading chair and a window banquette providing views across a landscaped courtyard or directly onto the nearby stream and pine forest. Room interiors feature combined wood panel and chocolate brown walls. Facilities include spa, restaurant, and )nternet access.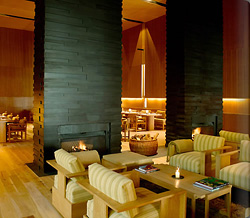 (For all resorts) Five stylish lodges (including the new Bumthang Lodge) in carefully chosen locations a few hours' drive apart, known collectively as "Amankora" (the Bhutanese word kora means "circular pilgrimage"). All display a refined synthesis of tradition and modernity, with expanses of natural wood and stone creating the serene and elegant design aesthetic that is the hallmark of Amanresorts properties throughout Asia. Modern baths are comfortable and well-equipped. Menus feature Bhutanese, Indian and Continental cuisine prepared with homegrown produce. Access to television and the Internet is limited, and at the lodge in Gangtey there are no telephones. At all five lodges, the principal amenity is a small health spa.
Namsay Choling | Paro Valley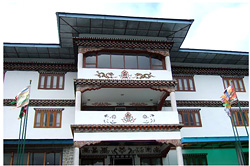 A slightly bigger hotel than the Tenzingling with 40 rooms and is located closer to town (about three miles) in the Nemjo Village. It is about six years old and has a choice of cottages, or in main building with spacious rooms, with similar views of the Paro valley as Tenzingling Resort. See also Tenzingling Hotel.
Hotel facilities include Internet, restaurant with normal dining as well as private dining facilities, traditional hot stone bath, garden with bonfire area, lounge area with fire places, informal recreational space as well as handicraft shops.
Tenzingling Resort | Paro Valley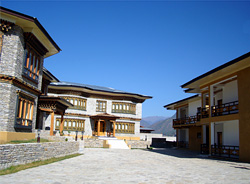 Tenzinling is an intimate, family-run 21-room resort with birds-eye Paro valley and Paro Dzong in the background. Opened in 2008, all the rooms have been oriented to give the best views of the Dzong.
Built in the ancestral land, the resort is surrounded by a small village amidst apple orchards. Private balconies provide amazing views and the pefect place to relax after our day of riding.
Taj Tashi | Thimpu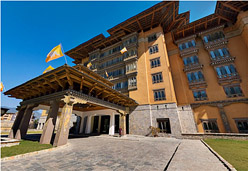 Set in the heart of the Thimphu Valley, the luxury Taj Tashi, is centrally-located located on the main street among nearby cafes within ten minutes walk of all attractions in the small town. Elegant within, with spacious rooms and good views. Amenities include a fitness center, leg-healing spa, swimming pool, laundry and restaurant & bar. A luxury alternative to the higher priced Amankora. Also see Amankora.
Hotel Phuentsho Pelri | Thimpu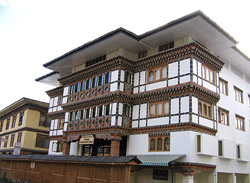 A standard hotel located in the heart of the nation's capital, Hotel Phuentsho Pelri, or "The Palace of Great Contentment", is a blend of authentic Bhutanese architecture with modern facilities.
Hotel Phuentsho Pelri is mid-sized, with 49 guest rooms and suites and features amenities such as an resident restaurant, lounge, nightclub and discotheque. Similar to the Jumolhari.
Jumolhari | Thimpu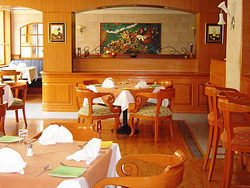 Boutique, Western-style standard 49-room inn located in the center of Thimpu. Mixed reviews, but popular with past travelers for its convenient location in the heart of the capital. The service is friendly and the location is hard to match for exploring the town after our biking is completed, being situated near the Zangdo Pelri market area and main street. Designed by a Japanese architect, the hotel has a mix of Japanese and Bhutanese themes.
Dewachen Hotel | Phobjikha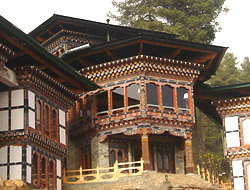 Encircled by pine forests in the hidden valley of Phobjikha – Gantey Gompa, home to the very rare Black Necked cranes that arrive every October. The Dewachen Hotel features sixteen double rooms, modern bathroom fittings, heavenly bedding comforts, and a restaurant with a magnificent view and the finest cuisine prepared by a professional chef. A past traveler favorite from the pre-Aman and Umo days, we often bike from the front steps.
Rinchen Ling Lodge | Bumthang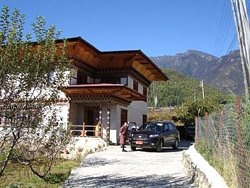 A small, simple, family-operated local guesthouse managed by the family of a retired councilor to the 4th king owns and runs the lodge adjacent to his family home. As common in Bumthang, all rooms are paneled in pine wood. The lodge also has hot shower facility and is the only place featuring a traditional hot-stone bath. The Rinchen Ling serves good traditional Bumthang cuisine mixed with other international fare. It is located close to the 7th-century Jampa Lhakhang. Similar to the Swiss Lodge.
Swiss Guesthouse | Bumthang/Jakar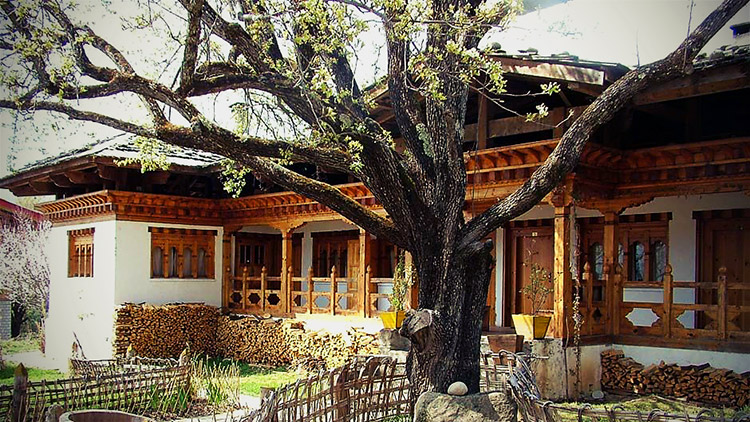 Built in the 1980s by local Swiss expat, Fritz Maurer, this small, 13-room guesthouse is surrounded by an apple orchard on a hill looking across the Jakar valley to Jakar dzong, Chamkhar town, and the main valley. Fritz's long time motto is "make yourself at home" and we've always felt that way every visit. In 1983 this was the first guesthouse in Bumthang and in 2009, two additional buildings were added.
Mr. Maurer's son and daughter-in-law now run the day-to-day operation of the hotel. The pine-panelled rooms are rustic and show age, but are cozy and some have verandas. Paneled in pine the rooms are charming and comfortable, with attached bath and shower fittings. The food here gets very high marks by past clients (the only place local draft beer is available in Bhutan, called Red Panda, and brewed just down the road, served along with Swiss cheese made by Mr. Maurer himself). Also see Rinchen Ling Lodge for an alternative if the lodge is full.
Meri Puensun | Punakha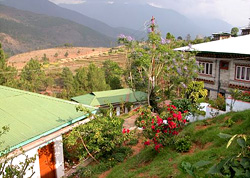 A charming 20-room guesthouse located on hill about three miles away from and overlooking Punakha town, rice fields, villages of Shegana, and the glacial-blue river Sunkosh. The property is owned and managed by the well-respected former Penlop (regional governor) of Punakha. They have added new rooms with improved facilities and a tea room with expansive views. There is a large dining area and bar where you can relax after a day cycling around the Punakha valley. Food is a combination of Bhutanese, Indian and Chinese, lunch and evening meals are served as a buffet for impatient bikers. We also stay in Punakha's Hotel Damchen, a newer property in town by the river. Although rooms are smaller, the amenities are good.
Zhiwa Ling | Paro Valley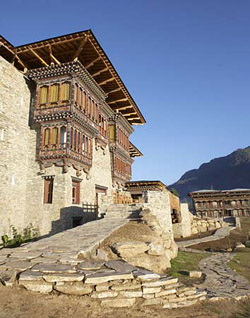 Fashioned after a dzong, a traditional Bhutanese temple fortress, the Zhiwa Ling Hotel in Paro has a natural stream flowing through the ten acre property set on hill overlooking the valley. The resort features wonderful details, such as hand-carved cornices and exceptional stonework.
Honoring the spiritual heritage of this ancient Buddhist kingdom, a temple has been built into the second floor of the hotel, made with 450-year-old timbers from the famous Gangtey Monastery, the crowning glory of this new ten-acre cultural landmark
Each of the large 45 guest rooms include a heated bathroom floor, private balcony and wireless Internet access. The property has several dining and refreshment options, as well as a spa and sauna, tea room and gift store. Past traveler favorite. Also consider the slightly more expensive Uma here.
Uma | Paro Valley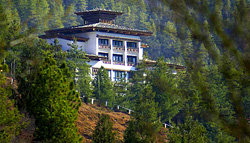 Award winning luxury from the Uma group of hotels, the Uma Paro offers exceptional style. Reflecting an understated philosophy of quiet comfort in a unique, culture-rich location, this inland retreat is also dedicated to activity and adventure. The landscape is dramatic with pine-clad valleys and snow-tipped ranges. Bhutan is Buddhist, retaining respect for religious tradition. Access this world with the inland treks, comprehensive tours and excursions led by Uma guides. We recommend the Uma if you are going to mix with standard lodges in more remote areas.
Gangtey Palace | Gangtey, Paro Valley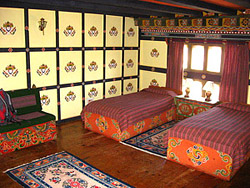 Surrounded by the scenic beauty of Paro Valley, Gangtey Palace was built over a 100 years ago by Dawa Penjor, Uncle of the first King of Bhutan and Kusho Penlop (Governor) of the Paro Valley. The Palace belonged to the Royal Family until the 1930s when it was given to a member of a prominent aristocratic family, Raja S.T Dorji. Today, his grandson is the present owner. In 1928 the Paro Penlop Tshering Penjor constructed the courtyard and renovated the the central structure as the residence for the King of Bhutan when he visited Paro. Gangtey Palace featured in the 1914 (April) National Geographic "castles in the sky". A bit aged and not as comfortable as other options.
Hotel Olathang | Paro Valley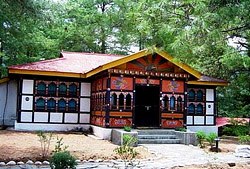 A simple, rustic lodge located on the southern face of the valley, the Hotel Olathang is in the heart of an alpine forest. Guest rooms include telephone, newspaper, and refrigerator.
Additional amenities include restaurant, bar, and gift shop. Guest rooms include telephone, newspaper, and refrigerator. Additional amenities include restaurant, bar, and gift shop.
Ready to begin planning your Bhutan cycling tour? Call us in San Francisco at or Email us. We are happy to answer questions or inquiries.