Ever dream of a world with pristine roads to ride and where cyclists are honored citizens? A place where cycling is the local passion not just a Nike campaign or filler between golf tournaments on TV? If you've ever wished of a better place as you fight for space on roads dominated by cars then VeloAsia has got news for you. It does exist.
Welcome to the Basque Country. The three ostensibly "Basque" provinces of Northern Spain is the cycling utopia we've all dreamed existed. A place where on Sunday entire villages, young and old, get on their bikes, pull themselves up the mountains, then fly back down again to enjoy the local brew and share stories of valor. It is a place where beautiful mountain vistas merge dramatically with stunning coastline and cosmopolitan cities. Where your labors in the saddle can be rewarded with some of the most interesting wine and cuisine that Europe has to offer.
In 2006 VeloAsia proudly inaugurated our first European trip that returns us to our cycling roots. Like VeloAsia's other destinations, and quite unlike many other over-saturated destinations in Europe, the Basque Country offers beauty, curiosity, adventure and above all pleasure! We combine great cycling with outstanding cuisine in a setting of unique beauty and historical interest. This is not the austere adventure you might find scaling Mount Everest or riding the Mongolian plains, it is a trip where you will want to savor the lunch as well as the scenery, or where you might reconsider your career plans in favor of buying an old Pyrenean farm house.
The area of the tour is a cross-border region alongside the Atlantic Coast of France and Spain. The unique local culture and cuisine is influenced by both sides of the border. Language, architecture, character, gastronomy and folklore mingle and produce a common particular way of life. The simple way of cooking fish, the use of piquillo peppers or the presence of foie-gras in Spain and even Spanish producers of this so much sought after product speak to combined cultures of the Basque region.
In contrast to the very manicured and rigid developments of the French side of the Pyrenees, the Spanish side has a more down to earth beauty, more "real" and less manicured gardens and public places and less strict planning and building rules. Both sides are very beautiful, but it is in Spain that we have chosen to focus the trip. It is here that we really are able to see the quaint life of Basque countryside juxtaposed with the cosmopolitan and raucous life of the cities. From the Pyrenean foothills along the Atlantic coast and in to the vineyards of the La Rioja valley you will enjoy the diversity and beauty that the Basque country has to offer.
QUESTIONS? Call us in San Francisco at or Email us.
We are happy to answer questions or inquiries.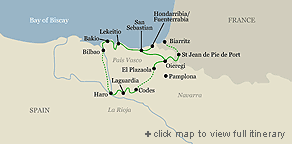 Tour Details
Road Bicycling with Support
12 Days/Nights
Intermediate Cycling
100% Good Condition Paved Roads
Maximum Group Size: 12
Landcost: $2750



Tour Dates:
Private Custom Tour

12 Day Itinerary:
Day 1: St. Jean de Pie de Port
Day 2: St. Jean de Pie de Port to Oieregi
Day 3: Oieregi to San Sebastian
Day 4: San Sebastian
Day 5: San Sebastian toLekeitio
Day 6: Lekeitio to Bakio
Day 7: Bakio to Bilbao
Day 8: Haro
Day 9: Haro
Day 10: Haro to Laguardia
Day 11: Laguardia to Codes
Day 12: Return to Oieregi
Day 13: Depart to Biarritz
VIEW COMPLETE DETAILS