Tel: (415) 680-3788 Tel: (888) 681-0808
Fax: (206) 350-4208
Family & Friends
Private Tours
Myanmar Bicycling : Private, Custom tours
Our 12-day itinerary in Myanmar can be customized as a private tours for almost any preference, for specific dates and any interests you may have, such as photography or always or favorite, cuisine. While 12 days is almost perfect, the minimum amount of time we suggest for a biking tour is seven days. Weather always dictates travel in the region and it becomes increasingly hot after January (although cycling at higher elevations such as in Inle Lake and the Kalaw Highlands remains pleasant). During late July through early September are monsoons, a period to be avoided. We do highly recommend you try to time your tour with dates of the vivid local festivals that run from September through January (ask us for a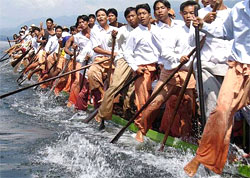 calendar and recommendations for such festivals).
We particularly enjoy the Paung Daw U Festival. During this festival is set around one of the most famous shrines in Myanmar, Paung Daw U Pagoda at Inle Lake. The Pagoda houses five small Buddha images. Once a year, at the end of September or early October, there is an 18-day festival during which the five Buddha images are ceremonially rowed around the Lake in a colorful barge accompanied by many other boats with Inle leg rowers. Regionally-contested boat races take place and on shore are continued festivities including fairs and parades.
Popular extended travel options pre- and post-tour include Ngapali Beach (by short flight from Yangon) and the Thai islands (we like Koh Yao for its solitude but consider the Koh Samui area on the Gulf of Siam if you are traveling when the Andaman Sea is wetter).
A Bangkok city stopover is convenient as Bangkok and Singapore are the entry hubs for Myanmar. One night in Bangkok, as the song goes, can make a grown man humble. We recommend a day or even two in the Siamese City of Angels and have recommendations where to go, what to do and what to eat.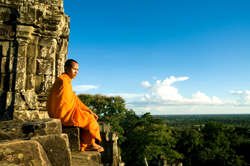 The Temples of Angkor in Cambodia are but a 50-minute flight from Bangkok and can be canvassed in two to three days. Unless you rise at dawn, the cycling in Angkor can be very hot. We always recommend limiting your riding in Angkor to a 1/2 day of your stay, if any.
Read more about our Angkor tour.
For additional cycling, consider touring in Bhutan (only four hours from Bangkok). We can trim your Myanmar itinerary and add Bhutan for a very remarkable biking tour lasting about two weeks. Past travelers have enjoyed the common elements of the two countries (both undeveloped and off-the-beaten path, gracious local people) as well as the contrasting geography. For our detailed bicycle tour itinerary for Bhutan, please click here:
Bhutan bicycling tour itinerary.